News and press releases from the OSCE's global activities.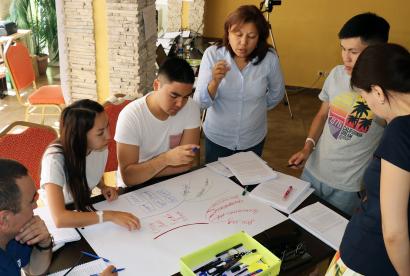 Publishing date:
27 August 2018
The OSCE Programme Office in Bishkek staff members have undergone a rigorous gender training course conducted by the Kyrgyzstani non-governmental organization Women Support Center, from 19 to 24 August 2018 in Bishkek...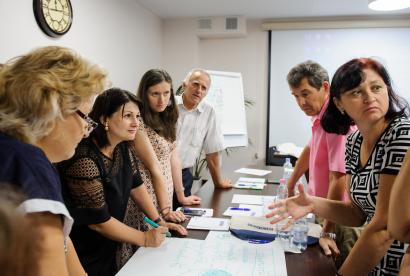 Publishing date:
24 August 2018
Fifty seven teachers from vocational schools throughout Moldova successfully completed a training-of-trainers workshop on gender equality organized by the OSCE Mission to Moldova. The event was organized in partnership with the Ministry of Education, Culture and Research and the NGO "Gender-Centru" from 21 to 24 August, 2018 in Chisinau. The aim of the training was to improve the teachers' skills in promoting gender equality and contribute to enlarging the pool of teachers able to challenge gender stereotypes and create a gender-sensitive educational environment.
Publishing date:
17 July 2018
The OSCE Mission to Montenegro, in co-operation with the Ministry for Human and Minority Rights, organized a co-ordination meeting with municipal gender focal points on 11 July in Podgorica. The participants evaluated accomplishments and activities carried out by the municipalities in the last period and discussed and co-ordinated future activities.
Publishing date:
16 July 2018
Content type:
Press release
KYIV, 14 July 2018 – Concluding a two-day visit to Kyiv, the OSCE PA Special Representative on Gender Issues, Dr. Hedy Fry (MP, Canada) underlined the need for greater equality between women and men to fully exploit Ukraine's reform agenda and conflict-resolution efforts.
Publishing date:
6 July 2018
Content type:
Press release
BERLIN, 6 July 2017 – Hundreds of parliamentarians from North America, Europe, Central Asia, the Middle East and North Africa are gathering in Berlin for the 27th Annual Session of the OSCE Parliamentary Assembly, taking place 7-11 July...
Publishing date:
3 July 2018
Over 40 participants from delegations of OSCE participating States, civil society organizations and academia participated in a side event of the Supplementary Human Dimension Meeting dedicated to combating violence against women in conflict settings on 2 July 2018...
Publishing date:
2 July 2018
Content type:
Press release
VIENNA, 2 July 2018 – Strengthening law-enforcement and judicial responses to violence against women, raising awareness about its multiple and invisible forms and empowering victims are crucial elements of any effective strategy to prevent such violence, participants said today at the opening of a two-day OSCE conference in Vienna...