News and press releases from the OSCE's global activities.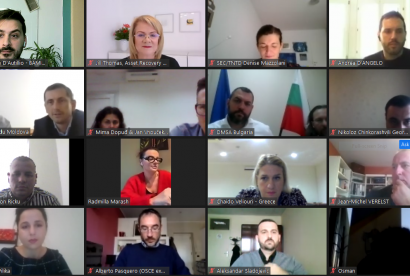 Publishing date:
27 November 2020
The OSCE supported the annual general meeting of the Balkan Asset Management Interagency Network (BAMIN) on 26 November 2020, bringing together representatives of national asset management and asset recovery offices of sixteen jurisdictions (14 BAMIN member and three guest jurisdictions), together with officials from the BAMIN Secretariat and the OSCE...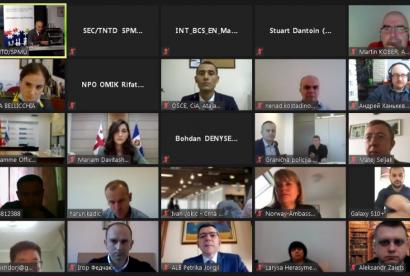 Publishing date:
26 November 2020
The Strategic Police Matters Unit of the OSCE's Transnational Threats Department (SPMU) presented the achievements and lessons learned from the four-year extra budgetary project on Intelligence-led Policing (ILP) during the project's concluding conference on 26 November 2020...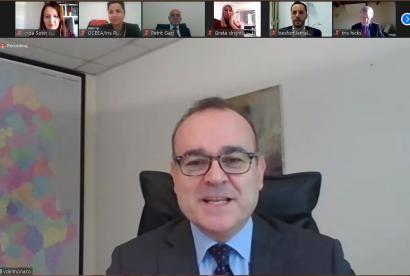 Publishing date:
26 November 2020
The importance of the social re-use of assets recovered from organized crime and corruption as a public good, and the potential lever it creates to reduce crime and corruption was the focus of an online workshop the OSCE held for participants from Albania on 24 November 2020. The event brought together law enforcement practitioners and representatives of the Agency for the Administration of Seized and Confiscated Assets, local and international civil society organizations and academia...
Publishing date:
26 November 2020
Enhancing economic connectivity perspectives and the operationalization of Euro-Asian inland transport links (EATL) were the focus of virtual consultations held by the OSCE and the UN Economic Commission for Europe (UNECE) on 26 November 2020...
Publishing date:
25 November 2020
The COVID-19 pandemic has led to an immediate reduction in energy demand and carbon emissions and has curbed investments across the sector with uncertain consequences for the energy transition, state participants of the Third Vienna Energy Strategy Dialogue titled "Implications of the global energy transition" held virtually on 24 November 2020 from Vienna...
Publishing date:
25 November 2020
The OSCE Transnational Threats Department's Action against Terrorism Unit, in co-operation with the OSCE Mission to Bosnia and Herzegovina and the UN Office on Drugs and Crime (UNODC) organized an online train-the-trainer course from 23 to 25 November 2020, with the aim of strengthening Bosnia and Herzegovina's (BiH) capacities in countering the financing of terrorism...
Publishing date:
20 November 2020
The impact of the COVID-19 pandemic on the work of prosecutors' offices was the focus of the fifth meeting of the Executive Board of the Permanent Conference of Organized Crime Prosecutors (PCOCP) on 12 November 2020. The meeting was held online with the support of the OSCE Mission to Serbia...