News and press releases from the OSCE's global activities.
Publishing date:
9 September 2019
Content type:
Press release
BRATISLAVA, 9 September 2019 – Some 160 representatives, policy makers and national security advisers from OSCE participating States and Partners for Co-operation, as well as experts and practitioners from international and regional organizations and academia, attended today in Bratislava the fourth thematic conference of the 2019 Slovak OSCE Chair, which focused on Security Sector Governance and Reform (SSG/R). In particular, the conference sought to unpack the role of SSG/R in preventing conflict, sustaining peace and promoting comprehensive security for all.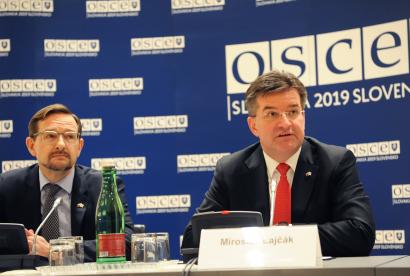 Publishing date:
7 September 2019
Content type:
Press release
BRATISLAVA/VIENNA, 7 September 2019- The OSCE Chair and Minister for Foreign and European Affairs of Slovakia, Miroslav Lajčák, and OSCE Secretary General Thomas Greminger welcomed today's conclusion of an exchange of detainees between the Russian Federation and Ukraine...
Publishing date:
5 September 2019
On 3 September 2019, some 40 representatives of the Ministry of Internal Affairs of Kazakh-stan, police, NGOs and representatives of the diplomatic corps participated in an event on inclusive and effective community policing in multi-ethnic societies. The event took place in the framework of the visit to Kazakhstan of the OSCE High Commissioner on National Mi-norities, Lamberto Zannier.
Publishing date:
4 September 2019
Content type:
Press release
BRATISLAVA, 4 September 2019 –A three-day advanced training course exploring the connection between security sector governance and reform (SSG/R) and border security management, hosted by the Slovak OSCE Chairmanship, concluded today.
Publishing date:
3 September 2019
A two-day train-the-trainer course on countering terrorist financing for participants from Albania was held on 2 and 3 September 2019 at the OSCE Secretariat in Vienna...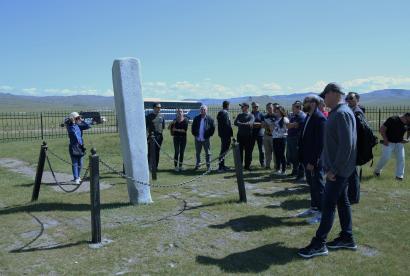 Publishing date:
2 September 2019
A five-day awareness raising workshop on combating illicit cross-border trafficking in cultural property concluded on 30 August 2019 in Ulaanbaatar. More than 40 participants from the OSCE Asian Partners for Co-operation Mongolia, Japan, South Korea and Thailand took part in the event. They represented police, border and customs services, the Ministry of Foreign Affairs, the Ministry of Education, Culture, Science and Sports as well as other entities such as anti-corruption agencies and academia.
Publishing date:
2 September 2019
A five-day training course aimed at strengthening the capacity of Kyrgyzstan to counter terrorist financing concluded in Issyk-Kul, Kyrgyzstan on 31 August 2019. It was organized by the OSCE's Transnational Threats Department, in co-operation with the OSCE Programme Office in Bishkek and the UN Office on Drugs and Crime (UNODC)...