News and press releases from the OSCE's global activities.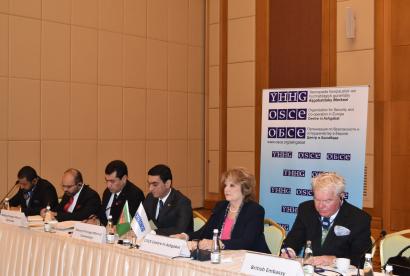 Publishing date:
29 November 2019
Promoting economic connectivity through regional stability was the focus of an OSCE-supported preparatory meeting of the Regional Technical Groups (RTG) of the Regional Infrastructure: Confidence Building (RI-CBM) Measures held on 29 November 2019. The event was organized within the framework of the Istanbul Process on Afghanistan.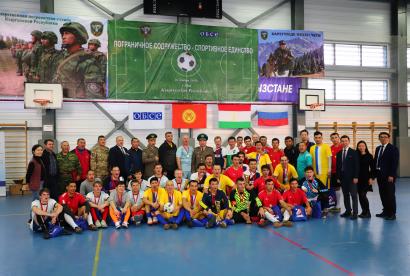 Publishing date:
29 November 2019
The second futsal tournament "Border Co-operation through Unity in Sports" took place on 27 November in Osh, Kyrgyzstan. Teams from the State Border Service of Kyrgyzstan, border servicemen of the State Committee for National Security of Tajikistan, the Operative Border Service Unit of the Russian Federation based in Osh and a team from the OSCE Programme Office in Bishkek participated in the event. The tournament aimed at strengthening regional border co-operation.
Publishing date:
28 November 2019
Content type:
Daily report
Summary Compared with the previous reporting period, the SMM recorded fewer ceasefire violations in Donetsk region and more in Luhansk region. The SMM saw that some of the previously observed positions of the Ukrainian Armed Forces and of the armed formations inside the Zolote disengagement area
Publishing date:
28 November 2019
Content type:
Press release
YEREVAN, 28 November 2019 – During his visit to Yerevan on the occasion of the 15th Anniversary of the Armenian Human Rights Defender's Institution, the OSCE Representative on Freedom of the Media, Harlem Désir, encouraged authorities to continue promoting a safe and enabling environment for media freedom.
Publishing date:
28 November 2019
Intelligence-led policing (ILP) as a modern approach to contemporary law enforcement management that combines intelligence gathering and analysis with informed decision-making procedures was focus the of an OSCE workshop in Bishkek on 28 November 2019...
Publishing date:
28 November 2019
VIENNA, 28 November 2019 – OSCE Secretary General Thomas Greminger presented two members of permanent delegations representing their countries in the OSCE with a White Ribbon Award in recognition of their personal commitment and achievements in promoting gender equality.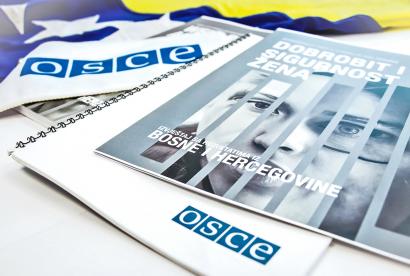 Publishing date:
28 November 2019
SARAJEVO, 28 November 2019- Following prior successful co-operation with law enforcement agencies in Bosnia and Herzegovina (BiH), the OSCE Mission to BiH organized today a workshop on preventing, handling and combating domestic violence for representatives of all police stations in the Canton Sarajevo and the Canton's Interior Ministry.