News and press releases from the OSCE's global activities.
Publishing date:
20 August 2019
Content type:
Weekly report
Kamensk-Shakhtinskiy, Russian Federation. The Observer Mission (OM) continues to operate 24/7 at both Border Crossing Points (BCPs). The overall number of border crossings by persons increased at both BCPs compared to the previous week.
Publishing date:
19 August 2019
Content type:
Daily report
• Compared with the previous reporting period, between the evenings of 16 and 17 August, the SMM recorded fewer ceasefire violations in both Donetsk and Luhansk regions. • Between the evenings of 17 and 18 August, the Mission recorded a similar number of ceasefire violations in Donetsk region and fewer in Luhansk region, compared with the previous 24 hours. • The SMM continued to monitor the situation inside the Stanytsia Luhanska disengagement area. • The Mission recorded ceasefire violations inside of the Zolote and Petrivske disengagement areas. • It saw self-propelled howitzers in violation of withdrawal lines near Mariupol. • The SMM saw unexploded ordnance near Popasna, Novohryhorivka, Verkhnoshyrokivske, and Shyrokyne. • The SMM monitored adherence to the ceasefire to facilitate the operation of essential civilian infrastructure at the Donetsk Filtration Station and the pumping station near Vasylivka. • Restrictions of the SMM's access continued, including at a checkpoint near Kreminets where members of the armed formations behaved aggressively towards the Mission.
Publishing date:
19 August 2019
Content type:
Press release
COPENHAGEN, 19 August 2019 – Marking World Humanitarian Day, which this year is dedicated to honoring the work of women, the leaders of the OSCE Parliamentary Assembly's Committee on Democracy, Human Rights and Humanitarian Questions today highlighted women's contributions to promoting human rights in the OSCE area.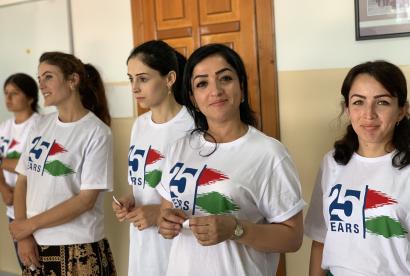 Publishing date:
19 August 2019
Twenty young people from Tajikistan, 14 women and six men, nominated by registered political parties in Tajikistan, participated in the summer school "Youth for Gender Equality" from 12 to 17 August 2019 in the OSCE Academy in Bishkek, Kyrgyzstan...
Publishing date:
17 August 2019
Content type:
Daily report
• Compared with the previous reporting period, the SMM recorded fewer ceasefire violations in Donetsk region and more in Luhansk region. • The SMM continued observing demining activities inside the disengagement area near Stanytsia Luhanska. • The Mission monitored adherence to the ceasefire to facilitate repairs to and the operation of essential civilian infrastructure, including repairs to gas pipelines, power lines, and the drilling of the water wells. • Restrictions of the Mission's access continued, including at a checkpoint near non-government-controlled Verkhnoshyrokivske.*
Publishing date:
16 August 2019
Content type:
Daily report
• Compared with the previous reporting period, the SMM recorded more ceasefire violations in Donetsk and Luhansk regions. • A man from Donetsk city's Petrovskyi district was injured from shrapnel in April. • Small-arms fire was assessed as directed at an SMM mini unmanned aerial vehicle near government-controlled Zolote-4/Rodina. • The Mission saw weapons in violation of withdrawal lines in non-government-controlled Zernove. • The SMM saw a new trench near the Donetsk Filtration Station. • The Mission monitored adherence to the ceasefire to facilitate repairs to and the operation of essential civilian infrastructure. • Restrictions of the Mission's access continued, including at checkpoints near non-government-controlled Zaichenko and Verkhnoshyrokivske.*
Publishing date:
15 August 2019
Content type:
Daily report
• Compared with the previous reporting period, the SMM recorded fewer ceasefire violations in Donetsk and Luhansk regions. • The Mission again saw small-arms fire damage to a school in Zolote-5/Mykhailivka. It also saw damage from gunfire at the entry-exit checkpoint in Maiorsk. • Small-arms fire was assessed as directed at an SMM mini unmanned aerial vehicle near government-controlled Paraskoviivka. • The Mission saw weapons in violation of withdrawal lines in non-government-controlled areas, including multiple launch rocket systems. • The SMM monitored adherence to the ceasefire to facilitate repairs to and the operation of essential civilian infrastructure. • Restrictions of the Mission's access continued, including at a checkpoint near non-government-controlled Verkhnoshyrokivske and at a heavy weapons holding area in non-government-controlled areas of Donetsk region.*