News and press releases from the OSCE's global activities.
Publishing date:
6 May 2020
Content type:
Daily report
Summary Compared with the previous reporting period, the SMM recorded more ceasefire violations in Donetsk region, including a spike in areas west of Donetsk city, and fewer in Luhansk region. An SMM patrol heard five explosions assessed as mortar rounds while positioned close to a checkpoint of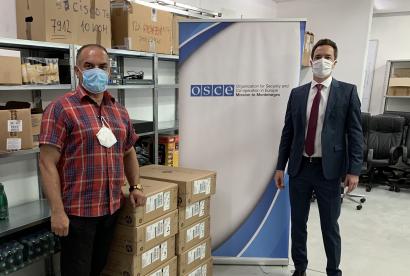 Publishing date:
6 May 2020
In order to support the ongoing modernization drive of several media houses in Montenegro, the OSCE Mission to Montenegro delivered ten new desktop computers to the news house Vijesti on 6 May 2020 in Podgorica...
Publishing date:
6 May 2020
To help Serbia face the challenges stemming from the COVID-19 pandemic, the OSCE Mission to Serbia immediately adapted its support to meet the country's needs...
Publishing date:
6 May 2020
Environmental crime in Albania increased in the first four months of 2020 compared to the same period last year, according to police reports...
Publishing date:
6 May 2020
Content type:
Press release
VIENNA, 6 May 2020 – The OSCE Representative on Freedom of the Media, Harlem Désir, expressed his concerns today about a set of new amendments to the law on Countering Terrorism, as well as changes to the Code of Civil Procedure, in Kyrgyzstan...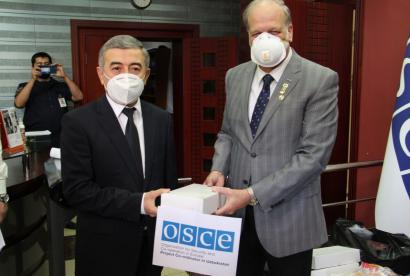 Publishing date:
6 May 2020
On 5 May, the OSCE Project Co-ordinator in Uzbekistan, John MacGregor handed over personal protection equipment (PPE) to the Authorized Person of the Oliy Majlis of the Republic of Uzbekistan for Human Rights (Ombudsperson), Mr Ulugbek Mukhammadiev. The PPE is intended to help protect the staff of the Ombudsperson's Secretariat and Regional Representatives from contracting COVID-19 when performing their official functions. This may include visiting and monitoring closed institutions, including quarantine facilities and penal colonies.
Publishing date:
5 May 2020
Content type:
Daily report
Summary Compared with the previous 24 hours, the SMM recorded more ceasefire violations in both Donetsk and Luhansk regions. The Mission saw damage from small-arms fire to a residential house in Yasynuvata and received information about civilians injured due to shelling in Oleksandrivka. Members of