News and press releases from the OSCE's global activities.
Publishing date:
17 June 2016
Content type:
Press release
GENEVA, Switzerland, 17 June 2016 – Addressing the main security risks in the inland transport sector, such as terrorism, theft, illegal border crossings, the trafficking of dangerous substances and waste, was the focus of a joint OSCE-UN Economic Commission for Europe (UNECE) Inland Transport Security Discussion Forum on Securing the Global Supply Chain that ended in Geneva today...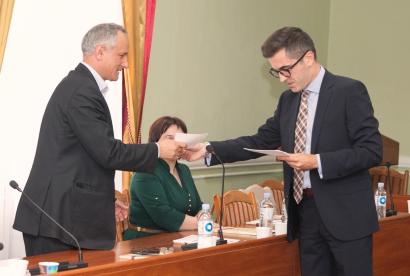 Publishing date:
27 May 2016
A seminar organized by the OSCE Mission to Moldova on 25 May 2016 trained 25 judges and prosecutors on investigating and prosecuting a range of cybercrimes, including online child pornography and human trafficking over the Internet...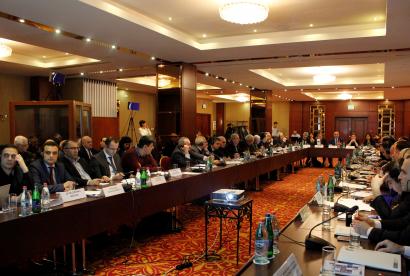 Publishing date:
24 March 2016
The OSCE Office in Yerevan held a conference on 23 March 2016 to look at developments in the cyber security sector and related regulatory frameworks. The event was organized in co-operation with the National Assembly Standing Committee on Defense, National Security and Internal Affairs and the UK Embassy in Yerevan...
Publishing date:
14 March 2016
Content type:
Press release
ALMATY, Kazakhstan, 14 March 2016 – An OSCE-supported five-day training seminar for law enforcement officials aimed at enhancing their understanding of various cyber-attack mechanisms and the types of incriminating evidence began today in Almaty...
Publishing date:
10 March 2016
Content type:
Press release
VIENNA, 10 March 2016 – The OSCE's 57 participating States agreed at today's Permanent Council meeting to expand a ground-breaking list of OSCE confidence-building measures (CBMs) to enhance security and stability in the cyber domain and reduce the risks of conflict stemming from the use of Information and Communication Technologies (ICTs)...
Publishing date:
20 January 2016
Content type:
Press release
BERLIN, 20 January 2016 – How to continue enhancing confidence between OSCE participating States and prevent possible cyber-related tensions was the focus of a conference organized today by Germany's 2016 OSCE Chairmanship at the German Federal Foreign Office in Berlin...
Publishing date:
5 January 2016
Serbia's first Serious and Organized Crime Threat Assessment (SOCTA) was published on the website of the Serbian Interior Ministry on 30 December 2015. The document, developed with the support of the OSCE Mission to Serbia, is a strategic overview of serious and organized crime in the country, including drugs, irregular migration, human trafficking, money laundering, corruption and cybercrime...