News and press releases from the OSCE's global activities.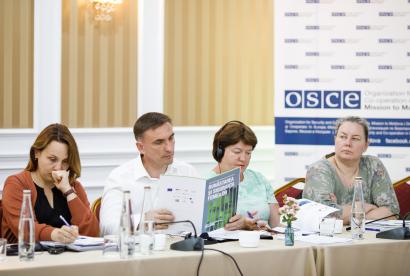 Publishing date:
4 July 2019
Together with the OSCE Gender Section, the OSCE Mission to Moldova presented the results for Moldova of the OSCE-led Survey on the Well-being and Safety of Women, at a launch event on 4 July 2019. The event was organized in co-ordination with the Moldovan Ministry of Health, Labour and Social Protection...
Publishing date:
3 July 2019
Content type:
Daily report
Compared with the previous reporting period, the SMM recorded fewer ceasefire violations in Donetsk region and more in Luhansk region. A woman was injured in Donetsk city and two men were injured in Vesele and near Pervomaisk from shelling and gunfire. The SMM saw damage to houses due to shelling in Khreshchatytske and Zolote-4/Rodina. Small-arms fire was assessed as aimed at an SMM unmanned aerial vehicle in Zernove. The SMM continued to monitor activities related to disengagement at Stanytsia Luhanska. The SMM saw again the presence of anti-tank mines near the Petrivske disengagement area. The Mission facilitated and monitored adherence to the ceasefire to facilitate repairs and the operations of critical civilian infrastructure. Restrictions of the SMM's access continued in the disengagement areas and elsewhere. Its freedom of movement was also denied near non-government-controlled Staropetrivske...
Publishing date:
3 July 2019
Content type:
Press release
LUXEMBOURG, 3 July 2019 – Ilkka Kanerva (MP, Finland), who has been nominated to lead the short-term OSCE observer mission for the 21 July early parliamentary elections in Ukraine, today expressed regret that the Parliamentary Assembly of the Council of Europe will no longer be able to observe these elections following recent developments...
Publishing date:
3 July 2019
Content type:
Press release
GENEVA, Switzerland, 3 July 2019- The 48th round of the Geneva International Discussions (GID) took place today...
Publishing date:
3 July 2019
The best practices in waste and landfill management technologies based on the example of two resort areas, Shchuchinsk-Borovskaya and Bayanaul, were the focus of an OSCE-supported roundtable discussion held in Nur-Sultan on 2 July 2019.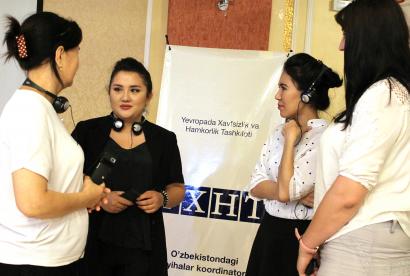 Publishing date:
3 July 2019
The OSCE Project Co-ordinator in Uzbekistan is conducting a first in a series of new training courses for members of the Women`s Committee Central Apparatus and its regional representations. Thirty representatives of the Women's Committee, from Tashkent city and the regions of Tashkent and Syrdarya are participating in the course from 2 to 4 July 2019 in Tashkent.
Publishing date:
3 July 2019
Content type:
Press release
NEW YORK, 2 July 2019 – In a briefing on the counter-terrorism work of parliamentarians before the United Nations Security Council's Counter-Terrorism Committee, the OSCE Parliamentary Assembly's Makis Voridis and Lisa Chambers spoke about the role played by the Assembly in this field and ways to further the engagement of parliamentarians in countering terrorism...