News and press releases from the OSCE's global activities.
Publishing date:
30 September 2022
Addressing intolerance in all its forms requires a collective effort from political and community leaders, policymakers, criminal justice officials, civil society actors and representatives of faith-based organizations, among others, concluded participants in an ODIHR event held in Warsaw on 29
Publishing date:
29 September 2022
Creative approaches that harness the power of technology and the arts can strengthen youth engagement in Holocaust education and commemoration activities, agreed participants in an event organized by the OSCE Office for Democratic Institutions and Human Rights (ODIHR) on 29 September 2022. The
Publishing date:
14 September 2022
On 13 September, the Personal Representatives of the OSCE Chairman-in-Office concluded a country-visit to Georgia. The purpose of the visit was to assess and share information on best practices and challenges pertaining to tolerance and non-discrimination...
Publishing date:
14 September 2022
Sarajevo, 14 September 2022 – The launch of the EU, UN, OSCE, and Council of Europe supported project "Empowering Trust and Cohesion in Bosnia and Herzegovina's Communities'' was officially marked today at a kick-off event held in Sarajevo.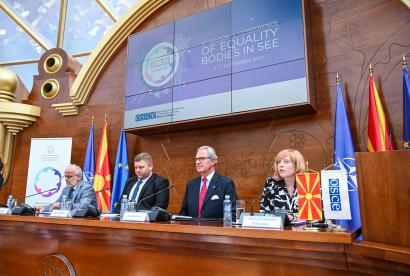 Publishing date:
7 September 2022
SKOPJE, 7 September 2022 – State bodies for equality in the region play an important role in the fight to create more equal societies, free of discrimination.  These bodies in North Macedonia and throughout the region face numerous challenges in relation to resources, inter-institutional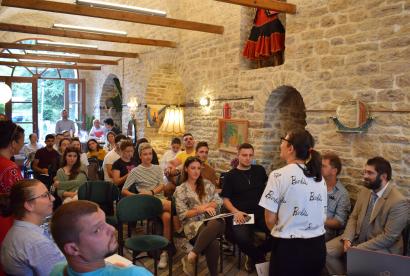 Publishing date:
31 August 2022
From 24 to 28 August 2022, twenty young activists from the Western Balkans gathered in Tirana and traveled to Gjirokastra to discuss, learn and explore approaches on social interaction and promote democracy, peace and security through inter-generational dialogue. Since 2017, the OSCE Youth Trail
Publishing date:
22 August 2022
Content type:
Press statement
VIENNA, 22 August 2022- As we mark the International Day Commemorating the Victims of Acts of Violence Based on Religion or Belief, the continued Russian aggression against Ukraine bring more death, new refugees, and the destruction of civilian sites, including houses of worship and religious shrines and memorials. Christians, Muslims, Jews, those of other religious beliefs, and those with no religious belief are among the victims. The religious leaders in Russia willingly or under coercion provide a rationale for this unprovoked war. Those who would speak out or even remain silent do so at their own peril.