News and press releases from the OSCE's global activities.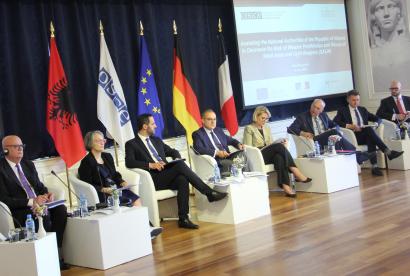 Publishing date:
9 June 2022
The OSCE Presence in Albania, in co-operation with the Ministry of Interior, launched today a three-year project, which aims to assist the national authorities to decrease the risk of weapon proliferation and misuse of small arms and light weapons. The project is part of a regional project
Publishing date:
2 June 2022
Countering the illicit financial flows linked with Afghan opiates trafficking was at the centre of a meeting by the Expert Working Group of the United Nations Office on Drugs and Crime's (UNODC) Paris Pact Initiative hosted by the OSCE on 30 May 2022.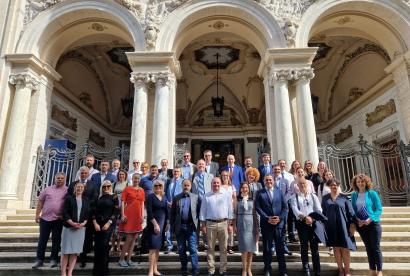 Publishing date:
1 June 2022
Following national awareness raising workshops on social re-use of confiscated assets in 2020 and 2021, government officials and civil society representatives from South-Eastern Europe gathered in Rome on 30 and 31 May for a seminar on the re-use, including re-use for social purposes, of criminal assets.
Publishing date:
24 May 2022
On 24 May, the OSCE Presence in Albania wrapped up a three-day training programme for 16 newly selected and vetted National Bureau of Investigation (NBI) investigators. The training programme aimed at boosting up the overall capacities of the newly-established NBI to conduct criminal investigations
Publishing date:
19 May 2022
The OSCE Mission to Montenegro, together with the OSCE Mission to Skopje, supported the organization of a networking meeting between the Women Police Association of Montenegro and women police officers from North Macedonia, on 17 and 18 May 2022 in Skopje.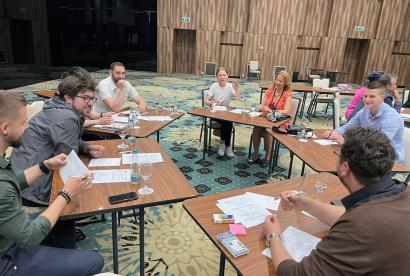 Publishing date:
19 May 2022
The social re-use of confiscated assets was the focus of three training events held by the OSCE and the Center for Civil Society Promotion (CPCD) in Bosnia and Herzegovina. The events were held on May 13 (Sarajevo), 16 (Tuzla) and 17 (Banja Luka). The 80 participants from civil society organizations had the opportunity to reflect on how they can contribute to the fight against organized crime and corruption and discussed which mechanisms civil society can effectively use to implement projects on social re-use.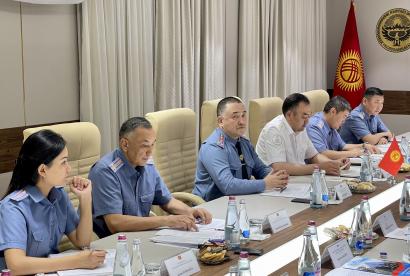 Publishing date:
18 May 2022
The OSCE has concluded a five-day visit to Kyrgyzstan to assess the ongoing police development and reform. The visit was a joint effort from the OSCE Transnational Threats Department (TNTD), the Office for Democratic Institutions and Human Rights (ODIHR), and the OSCE Programme Office in Bishkek.