News and press releases from the OSCE's global activities.
Publishing date:
10 November 2020
As part of the "Leaders against Intolerance and Violent Extremism – LIVE" programme, the OSCE Mission to Montenegro, together with Forum MNE, conducted two online training workshops for seven young participants from several Montenegrin cities from 7 to 11 September and 2 to 6 November 2020...
Publishing date:
10 November 2020
Analysis of the complex security challenges, currently being faced, as well as sharing best practices and innovative approaches was the focus of the OSCE roundtable discussion. The event titled "Leveraging innovation and technology to address 21st century security challenges and crises across the OSCE and Asian Partners for Co-operation" was held on 09 and 10 November 2020 online and in Vienna...
Publishing date:
6 November 2020
Strengthening the capacity of government officials from Kazakhstan to counter terrorism financing was the aim of an online training course that took place from 3 to 6 November. The event was organized by the OSCE's Transnational Threats Department, the OSCE Programme Office in Nur-Sultan, the UN Office on Drugs and Crime's Global Programme against Money Laundering (UNODC/GPML), the UNODC Regional Office for Central Asia and the Monitoring Team of the UN Security Council Committee pursuant to resolutions 1267 (1999), 1989 (2011) and 2253 (2015) concerning ISIL (Da'esh), Al-Qaida and associated individuals, groups undertakings and entities.
Publishing date:
5 November 2020
Content type:
Press release
COPENHAGEN, 4 November 2020 – The leaders of OSCE Parliamentary Assembly firmly condemn the terror attack which took place in Vienna on Monday, killing at least four people and injuring 22. "We stand in solidarity with the families of the victims and wish a speedy and full recovery to those injured in these horrific events. Vienna is the home of the OSCE and of international diplomacy, and its citizens have always stood by multiculturalism and tolerance," stressed OSCE PA President George Tsereteli...
Publishing date:
30 October 2020
The OSCE Transnational Threats Department's Border Security and Management Unit and the United Nations Office of Counter-Terrorism (UNOCT) organized the fourth OSCE-wide Seminar on Passenger Data Exchange on 29 and 30 October 2020, bringing together more than 250 passenger data experts from OSCE participating States and Partners for Co-operation...
Publishing date:
23 October 2020
A three-day online training course for over 70 practitioners from the five Central Asian states on the effective investigation of crimes committed in cyberspace and with the use of digital technologies concluded on 23 October 2020. The event was organized by the OSCE Secretariat's Transnational Threats Department jointly with the UN Office of Counter-Terrorism- UN Centre for Counter-Terrorism (UNCCT- UNOCT), and the UN Regional Centre for Preventive Diplomacy in Central Asia (UNRCCA) with the support of the OSCE field operations in Central Asia...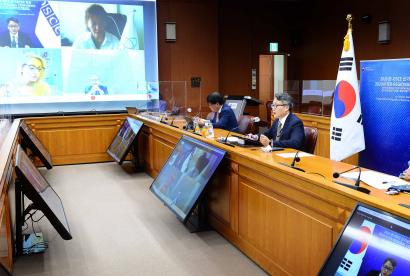 Publishing date:
15 October 2020
Content type:
Press release
SEOUL/VIENNA, 15 October 2020 – New technologies need to be backed up with necessary human rights safeguards, furthering the OSCE's comprehensive approach to security, say participants at the fourth inter-regional conference on the Impact of Emerging Technologies on International Security and Terrorism. Foreign Affairs Ministry of Korea, in co-operation with the OSCE Transnational Threats Department (TNTD) and the OSCE External Co-operation Section, organized the virtual conference on 14 October 2020...