News and press releases from the OSCE's global activities.
Publishing date:
23 September 2021
On 23 September 2021, the South-East Europe Police Chiefs Association (SEPCA), chaired by Montenegro, opened a two day conference in Budva hosted by the Ministry of Interior's Police Directorate with the support of the OSCE Mission in Montenegro...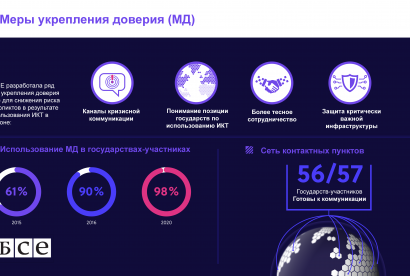 Publishing date:
8 July 2021
The OSCE's Transnational Threats Department released a Russian-language version of its new e-learning course on OSCE cyber/ICT security Confidence-Building Measures (CBMs) on 8 July 2021.
Publishing date:
29 June 2021
The OSCE Presence in Albania organized a workshop, in hybrid format, on "Prevention and Investigation of Cybercrimes" on 29 June 2021 to support the country's efforts in the fight against cyber crime.
Publishing date:
24 June 2021
The OSCE Transnational Threats Department (TNTD) contributed to the 2021 Kuban Cyber-Security Conference held online and in-person in Krasnodar, Russia on 23 and 24 June 2021.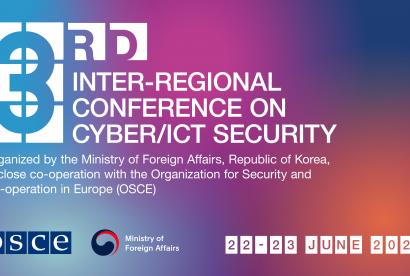 Publishing date:
24 June 2021
How international co-operation can lead to a more stable, predictable and safe cyberspace, was the focus of the 3rd Inter-Regional Conference on Cyber/ICT Security. The Republic of Korea and the OSCE organized the event, held in Vienna in a virtual setting on 22 and 23 June, with the participation of 280 governmental and non-state representatives...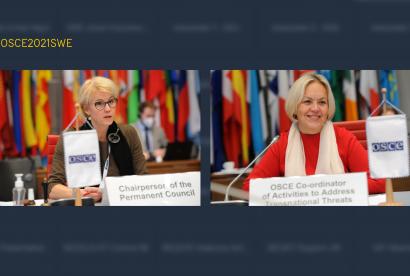 Publishing date:
4 May 2021
Content type:
Press release
VIENNA/STOCKHOLM, 4 May 2021 — With society more interconnected through technology than ever before, multilateral engagement is key to building confidence and trust to ensure an open and secure cyberspace, participants agreed during the opening session of the OSCE-wide Cyber/ICT Security Conference held online today.
Publishing date:
30 April 2021
Two back-to-back online training seminars on criminal law and criminological characteristics of computer crimes, methodology for detecting and investigating criminal offenses committed using information and communication technologies (ICT) concluded on 30 April 2021 in Nur-Sultan.