News and press releases from the OSCE's global activities.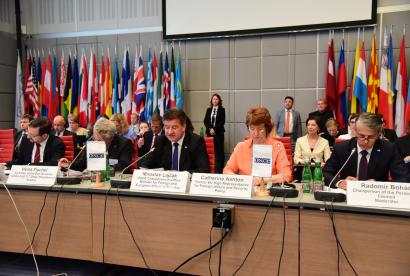 Publishing date:
25 June 2019
Content type:
Press release
VIENNA 24 June 2019 – The OSCE has the framework, the platform and the tools needed to address today's complex security challenges. What is needed to make effective use of those tools are political will, seeking new opportunities for dialogue and new ways of communicating and negotiating, all keynote speakers agreed at today's opening session of the Annual Security Review Conference (ASRC).
Publishing date:
24 June 2019
Content type:
Press release
NUR-SULTAN, 24 June 2019 – An OSCE-organized week-long simulation exercise on how to identify and rescue victims of human trafficking kicks off today at the Regional Hub for Countering Global Threats in Nur-Sultan. More than 70 professionals from law enforcement, labour inspectorates, border and migration authorities, prosecutorial offices, NGOs and public social services from 17 OSCE participating States are participating in the live-action training...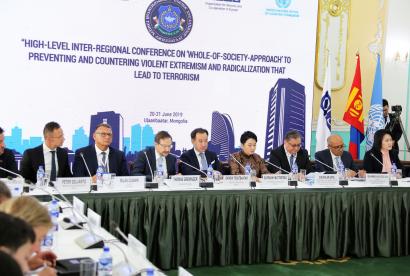 Publishing date:
21 June 2019
Content type:
Press release
ULAANBAATAR, 21 June 2019 – Efforts that promote tolerance, inclusion, inter-faith and inter-cultural understanding must be critical components of any strategy to prevent and counter violent extremism and radicalization that lead to terrorism (P/CVERLT), said speakers at the opening of a high-level inter-regional conference in Ulaanbaatar yesterday.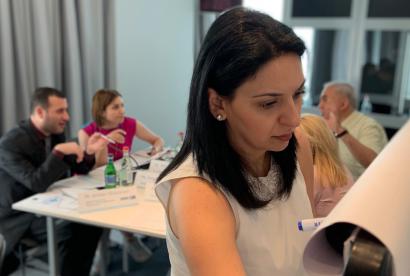 Publishing date:
20 June 2019
A three-day workshop on how to establish an Advance Passenger Information (API) system for preventing the movement of foreign terrorist fighters and enhancing aviation security was held in Yerevan from 17 to 19 June 2019. Some 20 representatives from relevant Armenian agencies involved in passenger processing, together with police and customs officials and members of the civil aviation authority and the Ministry of Foreign Affairs, attended the event.
Publishing date:
19 June 2019
Content type:
Press release
BRATISLAVA, 19 June 2019- Trends, challenges and opportunities related to inter-state security in the ICT/cyber space were the focus of a conference that brought together more than 200 representatives of governments, the private sector, civil society, academia and the UN for an OSCE-wide conference on 17 and 18 June 2019. The conference, Cyber/ICT Security for a Safer Future: The OSCE's Role in Fostering Regional Cyber Security, was organized by the Slovak OSCE Chairmanship, in co-operation with the Transnational Threats Department of the OSCE Secretariat...
Publishing date:
17 June 2019
A five-day training course aimed at further strengthening the capacity of Kazakhstan to counter terrorist financing was organized in Burabay, Kazakhstan, from 11 to 15 June 2019. The training seminar was delivered to participants from the capital and from the country's Akmola, Aktobe and Karaganda regions.
Publishing date:
14 June 2019
On 14 June 2019 in Baku, the Co-ordinator of OSCE Economic and Environmental Activities together with the Director of the Port of Baku launched the project Promoting Green Ports and Connectivity in the Caspian Sea Region...