News and press releases from the OSCE's global activities.
Publishing date:
19 June 2019
Content type:
Press release
SKOPJE, 19 June 2019 – On a trip to the Republic of North Macedonia, the OSCE Chairperson-in-Office and Slovakia's Foreign and European Affairs Minister Miroslav Lajčák, today in Skopje, congratulated North Macedonia on its successes over the last year, in particular the Prespa Agreement on the issue of the country's name and achieved reforms...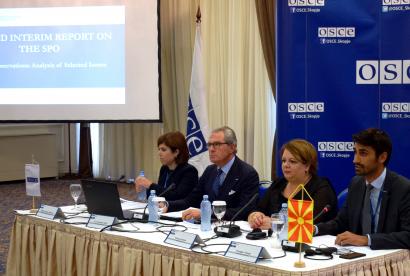 Publishing date:
12 June 2019
SKOPJE, 12 June 2019 – The OSCE Mission to Skopje presented today the second interim report on the activities and cases of the Special Prosecutor's Office (SPO), resulting from the Mission's trial monitoring observations.
Publishing date:
15 May 2019
The OSCE Mission to Skopje and the OSCE Gender Section presented on 15 May 2019 in Skopje a survey that shows that violence against women in North Macedonia is often underreported and that some forms of physical and sexual violence are widespread in the country. The research finds there is a particular need for more support and targeted action to help women from minority groups and from rural areas...
Publishing date:
2 April 2019
An OSCE-supported one-day gender assessment workshop focusing on ways to strengthen women's participation in the parliament took place in Skopje on 2 April 2019.
Publishing date:
1 April 2019
SKOPJE, 1 April 2019 – A co-ordinated response to existing and emerging transnational threats is the focus of an OSCE-supported regional conference taking place today and tomorrow in Skopje. The event was opened by Zoran Zaev, Prime Minister of North Macedonia, and Ambassador Clemens Koja, Head of the OSCE Mission to Skopje.
Publishing date:
28 March 2019
SKOPJE, 28 March 2019 – Some 60 judges from North Macedonia, Croatia, Montenegro, Poland, Serbia and Slovenia, gathered in Skopje today to discuss preconditions and challenges the Western Balkan countries face on the path towards the application of European judicial standards in their countries...
Publishing date:
25 March 2019
Content type:
Press release
VIENNA, 25 March 2019- The OSCE Representative on Freedom of the Media, Harlem Désir, published today a legal review of proposed amendments to the "Law on Free Access to Information of Public Character" in North Macedonia. The review was previously officially sent to the Minister of Justice, Renata Deskoska.