News and press releases from the OSCE's global activities.
Publishing date:
5 August 2020
Content type:
Press release
PODGORICA, 5 August 2020 – The OSCE Office for Democratic Institutions and Human Rights (ODIHR) today opened an observation mission for the 30 August parliamentary elections in Montenegro, following an invitation from the national authorities.
Publishing date:
5 August 2020
The OSCE Centre in Ashgabat organized an online roundtable discussion on gender mainstreaming in border and security management from 3 to 5 August 2020. The event brought together representatives of the State Border, Customs and Migration Services of Turkmenistan, and was held as part of an extra-budgetary project on strengthening the capacities of the State Border Service of Turkmenistan. The roundtable aimed to acquaint participants with best international practices in promoting gender aspects in law enforcement activities...
Publishing date:
4 August 2020
Content type:
Daily report
Summary The SMM recorded no ceasefire violations in Donetsk region (compared with one in the previous 24 hours) and three ceasefire violations in Luhansk region (compared with two in the previous 24 hours). From 00:01 on 27 July until the end of the reporting period, the SMM recorded a total of 246
Publishing date:
4 August 2020
Content type:
Weekly report
KAMENSK-SHAKHTINSKIY, Russian Federation. The Observer Mission (OM) continues to operate 24/7 at both Border Crossing Points (BCPs). The overall number of border crossings by persons increased at both BCPs compared to the previous week...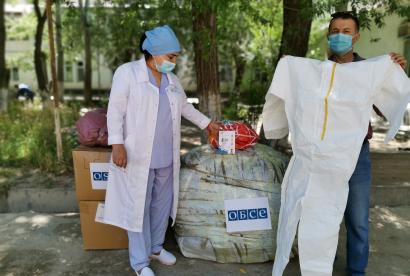 Publishing date:
4 August 2020
The OSCE Programme Office in Dushanbe provided practical assistance items worth of 50,000 euro to its partners in Tajik ministries, law enforcement agencies, local executive bodies and civil society in order to strengthen efforts to address the COVID-19 pandemic. The Office delivered and handed the items over to its partners in the Dushanbe, Sughd, Rasht, Gorno-Badakhshan Autonomous and Khatlon regions from 22 July to 4 August 2020...
Publishing date:
3 August 2020
Content type:
Daily report
Summary Compared with the previous reporting period, between the evenings of 31 July and 1 August, the SMM recorded 15 ceasefire violations in Donetsk region (compared with nine during the previous reporting period) and no ceasefire violations in Luhansk region (compared with 93 during the previous
Publishing date:
1 August 2020
Content type:
Daily report
Summary The SMM recorded nine ceasefire violations in Donetsk region (compared with one during the previous reporting period) and 93 ceasefire violations in Luhansk region (compared with none during the previous reporting period). From 00:01 on 27 July until the end of the reporting period, the SMM