News and press releases from the OSCE's global activities.
Publishing date:
29 November 2022
Challenges to the rule of law as well as good practices in OSCE participating States and the work of the OSCE Office for Democratic Institutions and Human Rights (ODIHR) were discussed at an OSCE-organized online seminar that took place on 29 November 2022. The aim of the event, organized by the
Publishing date:
18 November 2022
To help address issues of gender inequality in the justice system, the OSCE Mission to Skopje recently published a baseline study on Gender and Diversity in the Judiciary. "Only a transparent and inclusive judiciary can enjoy the trust and support of the citizens, which will enable it to perform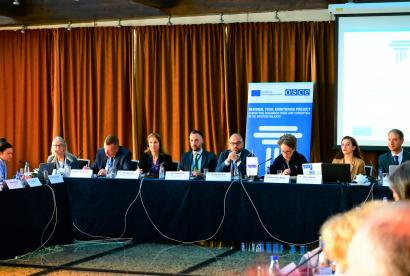 Publishing date:
15 November 2022
A Regional Conference on the investigation and adjudication of organized crime and corruption, gathering 45 justice sector stakeholders from across the region, as part of the OSCE Regional Trial Monitoring Project, opened on 15 November in Budva, Montenegro.
Publishing date:
1 November 2022
Almost thirty representatives of the Moldovan ombudsperson's (People's Advocate) institution participated in a two-day human rights webinar, organized by the OSCE Mission to Moldova on 25 and 26 October 2022. The participants discussed the institution's possibilities to increase efficiency of their
Publishing date:
21 October 2022
On 21 October, the OSCE Mission in Kosovo concluded a series of five training workshops on the prevention and handling of domestic violence cases for 144 newly appointed Kosovo Police (KP) officers. The workshops focused on the legal framework, including obligations and responsibilities arising
Publishing date:
20 October 2022
The OSCE Mission to Bosnia and Herzegovina welcomes the appointment of the new Chief Prosecutor of the Prosecutor's Office of BiH by the High Judicial and Prosecutorial Council. We trust that the Chief Prosecutor will demonstrate clear and resounding commitment to ensuring the resilience,
Publishing date:
20 October 2022