News and press releases from the OSCE's global activities.
Publishing date:
21 February 2018
Content type:
Press release
SARAJEVO, 21 February 2018 – The presentation of a report compiled by the OSCE Mission to Bosnia and Herzegovina titled Trial Monitoring of Corruption Cases in BiH: A First Assessment brought together over 100 representatives of the judiciary, law enforcement agencies and the international community in Bosnia and Herzegovina (BiH) today in Sarajevo. The report was developed within the framework of the project Assessing Needs of Judicial Response to Corruption through Monitoring of Criminal Cases and with the support of the United States Department of State's Bureau of International Narcotics and Law Enforcement Affairs.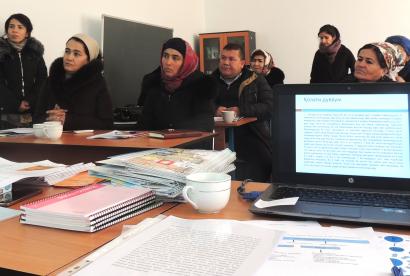 Publishing date:
2 February 2018
A one-day workshop for a newly-established multi-disciplinary working group on addressing domestic violence issues concluded on 2 February 2018 in the Khuroson district of the province of Khatlon, Tajikistan. The event was organized by the OSCE Programme Office in Dushanbe...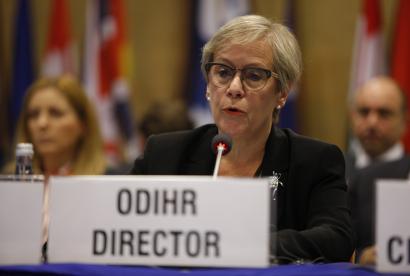 Publishing date:
10 January 2018
Content type:
Press release
WARSAW, 10 January 2018- Ingibjörg Sólrún Gísladóttir, Director of the OSCE Office for Democratic Institutions and Human Rights (ODIHR), today voiced serious concerns regarding the arrest and detention of Oyub Titiev, Director of the Memorial Human Rights Centre in Chechnya, in the North Caucasus republic of the Russian Federation, yesterday...
Publishing date:
15 December 2017
International standards and best practices on the independence of the judiciary in the context of criminal justice are the focus of an OSCE-supported series of three two-day seminars that started in Dashoguz on 15 December 2017 and will be continued in Mary until 18 December. The concluding seminar will be held in January 2018 in Ashgabat.
Publishing date:
15 December 2017
International co-operation in the management of temporarily seized assets was the focus of a two-day training course organized by the OSCE Mission to Montenegro for the Property Directorate Department for Seized and Confiscated Assets in Podgorica on 14 and 15 December 2017...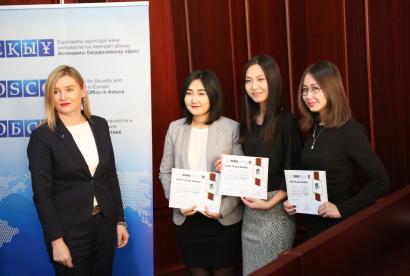 Publishing date:
14 December 2017
The annual OSCE-supported International Youth Legal Forum, which is held in recognition of the Human Rights Day and was dedicated to mechanisms of human rights protection this year, concluded on 14 December 2017 in Astana, Kazakhstan.
Publishing date:
12 December 2017
Content type:
Press release
BELGRADE, 12 December 2017 – At a ceremony today in Belgrade, the OSCE Mission to Serbia presented its Person of the Year Awards to: Dženeta Agović, Director of the Impuls civil society organization from Tutin; Brankica Janković, Commissioner for the Protection of Equality; Tamara Mirović, Deputy Republic Public Prosecutor; Nedim Sejdinović, President of the Independent Association of Journalists of Vojvodina; and Miloš Stojković, media lawyer...