News and press releases from the OSCE's global activities.
Publishing date:
14 February 2018
The Interior Minister of Tajikistan, Colonel General Rahimzoda Ramazon Hamro, addressed the OSCE participating States in the Hofburg Conference Centre, Vienna, on 12 February 2018. Interior Minister Rahimzoda was invited by the Secretary General Thomas Greminger and the Spanish Chair of the Security Committee, Ambassador Victoria Gonzalez Roman, to open this year's first session of the Security Committee.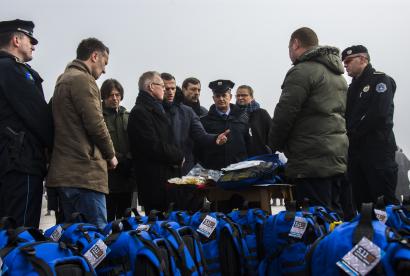 Publishing date:
6 February 2018
The OSCE Mission in Kosovo donated 30 specialized first aid kits to special operations units and rapid reaction units of the Kosovo Police on 6 February 2018...
Publishing date:
5 February 2018
Afghan law enforcement officers completed on 5 February 2018 an OSCE-organized two-week train-the-trainer course on combating illicit drug trafficking and drug-related crime, at the Russian training facility in Domodedovo, near Moscow...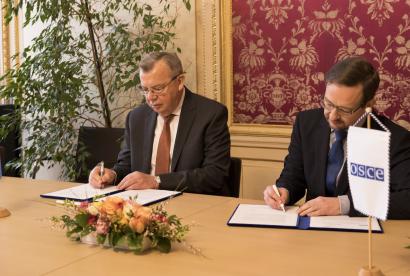 Publishing date:
31 January 2018
Content type:
Press release
VIENNA, 31 January 2018 – A plan for joint action by the OSCE and the United Nations Office on Drugs and Crime (UNODC) for the period 2018-2019 was signed by OSCE Secretary General Thomas Greminger and UNODC Executive Director Yury Fedotov today at the OSCE Secretariat in Vienna.
Publishing date:
18 December 2017
An OSCE-supported feasibility study for academic police studies according to the Bologna Standards of Academic Education, which evaluates the potential for the success and sustainability of the current Montenegrin police education system, was presented at a workshop hosted by the OSCE Mission and the Police Academy of Montenegro on 14 December 2017 in Podgorica.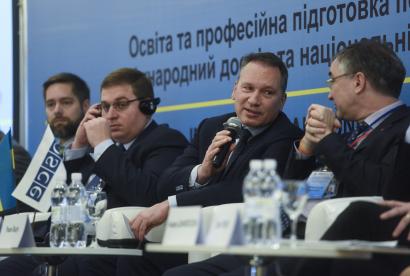 Publishing date:
13 December 2017
Ways to reform the Ukrainian police education system were explored during a two-day conference in Kyiv organized by the OSCE Project Co-ordinator in Ukraine in co-operation with Ukraine's Interior Ministry and the Ukrainian National Police on 11-12 December 2017...
Publishing date:
11 December 2017