News and press releases from the OSCE's global activities.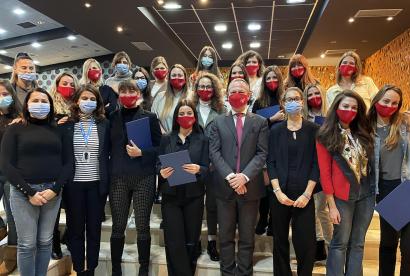 Publishing date:
18 October 2021
The seventh OSCE Dialogue Academy for Young Women concluded on 16 October 2021 in Mavrovo, North Macedonia. Eighteen participants from Prishtinë/Priština and Belgrade attended the Academy...
Publishing date:
15 October 2021
Eighteen young journalists from the Western Balkans gathered in Tirana from 10 to 14 October 2021 to discuss media challenges across the region and brainstorm on ways of tackling them...
Publishing date:
15 October 2021
An OSCE-supported a workshop on enhancing youth participation in political and civic life in Kazakhstan took place in Nur-Sultan on 15 October 2021. Some 50 members of parliament, representatives of the Ministry of Information and Social development, youth organizations, young experts and human rights defenders participated in the event, which was held in a blended format.
Publishing date:
14 October 2021
With the support of the OSCE Mission to Montenegro and the Directorate for Sports and Youth, the Regional Youth Co-operation Office (RYCO) Local Branch Office in Montenegro organized the third youth camp on "Intercultural Competencies in Sports", from 10 to 13 October 2021 in Kolašin.
Publishing date:
4 October 2021
The OSCE Mission to Montenegro is supporting the Department for Media Studies and Journalism at the Faculty of Political Science, University of Montenegro with intensive workshops on project management cycles during the month of October.
Publishing date:
29 September 2021
The OSCE Mission to Bosnia and Herzegovina (BiH) and the Austrian Embassy in Sarajevo, supported the association of citizens "Fojničani" in establishing an outdoor 'Classroom of Peace' which was opened on 29 September 2021 in Bradići/Fojnica settlement, in the Maglaj municipality...
Publishing date:
24 September 2021
Twenty young women and men from both banks of the Dniester/Nistru River developed negotiation skills and participated in a conflict resolution simulation exercise as part of the 8th edition of the Model OSCE for Youth event organized online by the OSCE Mission to Moldova from 21 to 24 September 2021.