News and press releases from the OSCE's global activities.
Publishing date:
6 April 2020
Some 150 young scholars (90% female) from 46 OSCE participating States and seven Partners for Co-operation, began the eight-week online training programme on "Conflict Prevention and Resolution through Arms Control, Disarmament and Non-Proliferation in the OSCE Area" on 6 April 2020. The programme is organized jointly with the United Nations Office for Disarmament Affairs in Vienna, thanks to generous contributions of Andorra, Finland, Germany and Switzerland...
Publishing date:
6 April 2020
Content type:
Press release
SKOPJE, 6 April 2020- The OSCE Mission to Skopje, the Ministry of Labour and Social Policy of North Macedonia and the National Network to End Violence against Women and Domestic Violence call upon the relevant actors to make additional efforts to prevent domestic violence during the COVID-19 crisis and to put in place effective victim protection mechanisms...
Publishing date:
2 April 2020
Content type:
Press release
VIENNA / COPENHAGEN / WARSAW, 2 April 2020 – Noting a troubling rise in domestic violence in relation to the COVID-19 pandemic lockdowns and self-isolation guidelines in many countries, OSCE leaders called today for measures to be taken by governments to protect women and children. They said that unfortunately, for them home is not always a safe haven, as they are the most susceptible to abuse and need increased protection in these extraordinary times and urged authorities to ensure that they are kept safe from abusers.
Publishing date:
13 March 2020
Content type:
Press release
VIENNA, 13 March 2020- The pivotal role of women in conflict prevention, conflict resolution, and post-conflict rehabilitation was highlighted during Wednesday's meeting of the OSCE Forum for Security Co-operation (FSC) under Turkey's FSC Chairmanship, which focused on the implementation of UN Security Council Resolution 1325 on Women, Peace and Security. The speakers urged the implementation of the Resolution, recognizing that equal participation and full involvement of women in all efforts for maintaining and promoting peace and security is of utmost importance...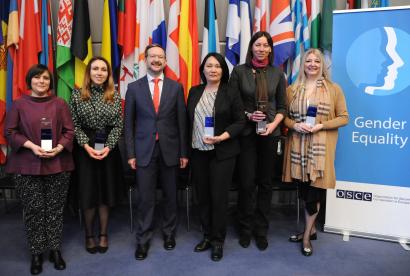 Publishing date:
12 March 2020
OSCE Secretary General Thomas Greminger acknowledged exceptional efforts and achievements of OSCE staff members in promoting gender equality in the OSCE and beyond at an award ceremony that took place on 12 March 2020, in Vienna.
Publishing date:
9 March 2020
The closing conference of the OSCE project "Effective Criminal Justice Strategies and Practices to Combat Gender-based Violence in Eastern Europe" was held in Vienna on 5 and 6 March 2020. The project was implemented over the past two years in Bulgaria, Hungary and Romania...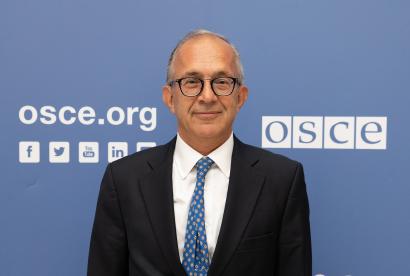 Publishing date:
8 March 2020
Content type:
Press release
KYIV, 8 March 2020 – International Women's Day serves as an important reminder of women's achievements to date and their invaluable contribution in promoting a sustainable solution to conflict.