News and press releases from the OSCE's global activities.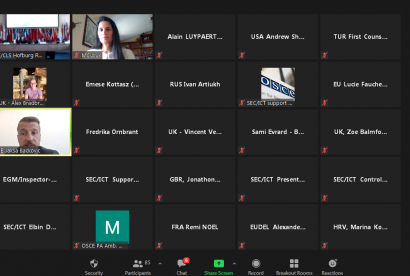 Publishing date:
14 April 2021
Marijana Čučuk, Programme Assistant at the OSCE Mission to Montenegro and Jakša Backović, Chief of the Unit for Combating Cyber Crime at the country's Police Directorate addressed the OSCE Security Committee meeting on "Preventing and Countering Terrorist Use of Internet" on 12 April 2021.
Publishing date:
12 March 2021
Over 180 participants, experts and high-level officials from around the OSCE region gathered for the OSCE webinar titled, "Terrorist Use of the Internet: Designation of Illicit Content Online and Gaps in Regulatory Frameworks", held on 12 March 2021.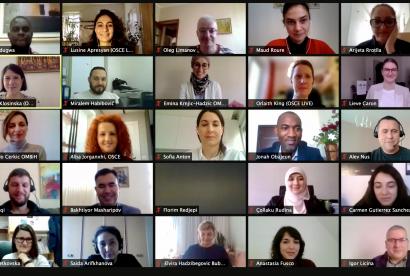 Publishing date:
22 February 2021
Over 70 participants from across the OSCE area took part in an online interactive webinar on The Role of Youth in Inter-faith Dialogue in the Context of Preventing and Countering Violent Extremism and Radicalization that Lead to Terrorism (VERLT) on 22 February 2021.
Publishing date:
15 January 2021
A regional train-the-trainers seminar is guiding twenty future facilitators (18 women, 2 men) in learning how to train women leaders in civil society to prevent violent extremism. The Action against Terrorism Unit of the OSCE Transnational Threats Department organized the seminar in co-operation with OSCE field operations in Central Asia...
Publishing date:
11 December 2020
The OSCE Transnational Threats Department's Action against Terrorism Unit, in co-operation with the OSCE Mission to Bosnia and Herzegovina and the UN Office on Drugs and Crime (UNODC) organized an online train-the-trainer course from 9 to 11 December 2020, with the aim of strengthening Bosnia and Herzegovina's (BiH) capacities to analyse terrorist financing risks and threats...
Publishing date:
9 December 2020
The OSCE Transnational Threats Department's Border Security and Management Unit (BSMU) organized a two-day workshop for representatives of relevant agencies in Algeria, Egypt, Israel, Jordan, Morocco and Tunisia on establishing an Advance Passenger Information (API) system for preventing the movement of foreign terrorist fighters and enhancing aviation security on 8 and 9 December 2020...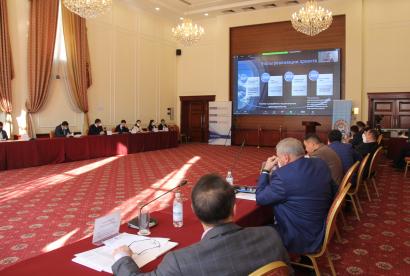 Publishing date:
4 December 2020
The OSCE Programme Office in Bishkek successfully completed a one-day roundtable discussion focusing on progress in the framework of efforts in implementing a system for passenger data exchange, the Advance Passenger Information- Passenger Name Record (API/PNR) on 3 December 2020. The event was organized in co-operation with the State Committee for National Security (SCNS) of the Kyrgyz Republic.