News and press releases from the OSCE's global activities.
Publishing date:
20 January 2021
High-level representatives from Tajikistan's Committee of Emergency Situations and Civil Defense (CoESCD), the OSCE Programme Office in Dushanbe and the European Union Delegation to Tajikistan participated in the official start of renovation work on the CoESCD Training Centre on 19 January 2021 in Karatag, Shahrinav district. The renovation will turn the CoESCD Training Centre into a facility providing training where the Committee will be able to strengthen the capacity of responders on how to react to natural disasters in border regions.
Publishing date:
28 December 2020
The OSCE Programme Office in Nur-Sultan handed over 25 devices for verifying travel document authenticity during the signing of a donation agreement with the Border Academy of the Committee for National Security of Kazakhstan on 25 December 2020 in Almaty. The Academy will use the devices to train its current and future border controllers to identify forged travel documents.
Publishing date:
11 December 2020
Twenty-seven officers and managers from different border security and law enforcement agencies from OSCE's participating States completed the first module of the one-year Border Security and Management for Senior Leadership course (BSMSL) on 11 December 2020. Due to the COVID-29 pandemic and the travel restrictions, the traditional face-to-face phase of the first module was held via video teleconferencing.
Publishing date:
9 December 2020
The OSCE Transnational Threats Department's Border Security and Management Unit (BSMU) organized a two-day workshop for representatives of relevant agencies in Algeria, Egypt, Israel, Jordan, Morocco and Tunisia on establishing an Advance Passenger Information (API) system for preventing the movement of foreign terrorist fighters and enhancing aviation security on 8 and 9 December 2020...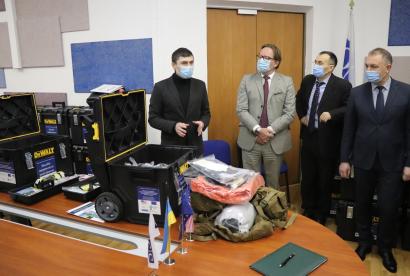 Publishing date:
9 December 2020
At a ceremony in Kyiv on 9 December 2020, Ukraine's State Border Guard Service and State Customs Service received equipment and reference materials from the OSCE Project Co-ordinator in Ukraine as part of their efforts to strengthen the country's control over transboundary movement of chemicals.
Publishing date:
10 November 2020
Analysis of the complex security challenges, currently being faced, as well as sharing best practices and innovative approaches was the focus of the OSCE roundtable discussion. The event titled "Leveraging innovation and technology to address 21st century security challenges and crises across the OSCE and Asian Partners for Co-operation" was held on 09 and 10 November 2020 online and in Vienna...
Publishing date:
5 November 2020
The current global health crisis, associated challenges for border agencies in Central Asia and Afghanistan as well as the need to enhance co-ordination in the region, were the focus of the four-day Conference of the Central Asia Border Management Initiative (CABMI) held from 2 to 5 November.