News and press releases from the OSCE's global activities.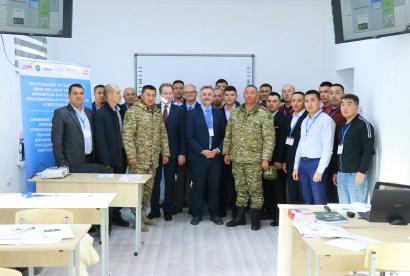 Publishing date:
15 November 2023
As part of an extrabudgetary initiative aimed at mitigating the risks associated with the illicit movement of small arms, ammunition, and explosives across the State Border of the Kyrgyz Republic, the OSCE is enhancing the institutional capacity of the Border Service of the State Committee for National Security of the Kyrgyz Republic to effectively counter transnational threats.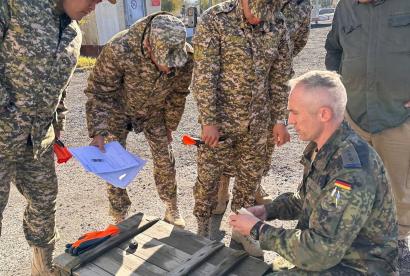 Publishing date:
1 November 2023
On October 31, 2023, the Ministry of Defense of the Kyrgyz Republic, in partnership with the OSCE Programme Office in Bishkek, marked a significant milestone- the inauguration of two modernized training classrooms in Osh. These newly renovated facilities are not only a testament to the importance of proper ammunition storage and maintenance but also a tangible step toward bolstering the safety and security in Kyrgyzstan.
Publishing date:
27 October 2023
On 27 October 2023, nineteen mine action specialists and practitioners (18 men, 1 woman) from the military, law enforcement, security services, and humanitarian agencies of Kazakhstan, Tajikistan, Turkmenistan, Uzbekistan, and Serbia completed a three-week regional Explosive Ordnance Disposal course (EOD Level 2) at the Regional Explosive Hazards Training Centre of Tajikistan's Ministry of Defence in Chimteppa.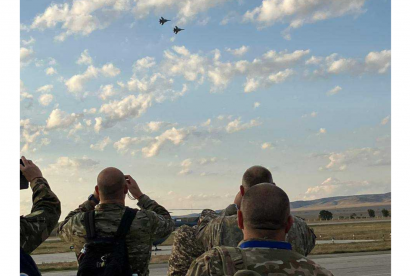 Publishing date:
5 October 2023
On 3 and 4 October 2023, the OSCE Programme Office in Astana together with the Ministry of Defence of Kazakhstan supported a visit of representatives from the verification centres of 25 OSCE participating States to the 604th Air Base and 37th Air Assault Brigade in Taldykorgan city.
Publishing date:
4 October 2023
In the framework of the OSCE project "Mitigation of Safety and Security Risks related to small arms and light weapons and stockpiles of conventional ammunition in Montenegro", the Head of the Mission to Montenegro, Dominique Waag, visited Brezovik military facility on 3 October, to see first-hand the results of the support provided by the Mission since 2007.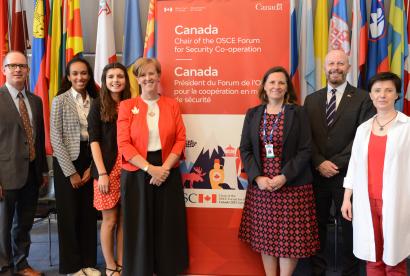 Publishing date:
13 September 2023
Content type:
Press release
VIENNA, 13 September – Today, Canada assumed the Chairpersonship of the OSCE's Forum for Security Co-operation (FSC) until December 2023. During the opening session, Canada's Minister of National Defence, the Honourable Bill Blair, underlined the importance Canada attaches to the role of the FSC and to dialogue on security across the OSCE region.
Publishing date:
18 August 2023
On 14 – 19 August 2023 The OSCE Programme Office in Dushanbe (Office) organized a six-day training on the practical use of the electronic inventory management software for small arms and light weapons (SALW) and conventional ammunition (CA). Twelve national participants (all men) from Tajikistan's Ministry of Internal Affairs (MIA) took part in the training held in Dushanbe.