News and press releases from the OSCE's global activities.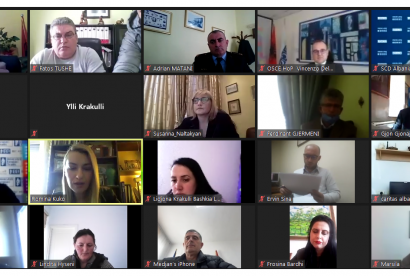 Publishing date:
4 March 2021
The OSCE Presence in Albania organized an online meeting, on 4 March 2021, to present the findings of an evaluation report on Local Safety Councils (LSCs) in six targeted municipalities...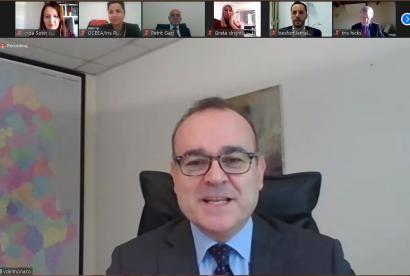 Publishing date:
26 November 2020
The importance of the social re-use of assets recovered from organized crime and corruption as a public good, and the potential lever it creates to reduce crime and corruption was the focus of an online workshop the OSCE held for participants from Albania on 24 November 2020. The event brought together law enforcement practitioners and representatives of the Agency for the Administration of Seized and Confiscated Assets, local and international civil society organizations and academia...
Publishing date:
23 November 2020
The COVID-19 pandemic reminds us all that the local government level is the closest to its citizens, and thus better positioned to respond to their specific challenges and needs, stated participants of an online discussion hosted on 19 November 2020 by the OSCE Presence in Albania, with support of the Ministry of Interior. The meeting was held to discuss the key findings of a situation assessment report on the response of 13 targeted municipalities to the COVID-19 pandemic...
Publishing date:
3 June 2019
Content type:
Press release
TIRANA, 3 June 2019 – Visiting Albania, which will chair the OSCE in 2020, this year's OSCE Chairperson-in-Office, Slovakia's Foreign and European Affairs Minister Miroslav Lajčák, reiterated today in Tirana Slovakia's commitment to supporting the country in preparing its 2020 OSCE Chairmanship...
Publishing date:
3 April 2019
The OSCE Presence in Albania and the Albanian Extractive Industries Transparency Initiative signed on 2 April 2019 a co-operation agreement on joint activities to raise local capacities, promote transparency and strengthen anti-corruption efforts at local level.
Publishing date:
1 March 2019
A three-day train-the-trainer course for Albanian participants on countering terrorist financing was organized in Vienna from 27 February to 1 March 2019 by the OSCE's Transnational Threats Department, in co-operation with the OSCE Presence in Albania, and the UN Office on Drugs and Crime's Global Programme against Money Laundering (UNODC/GPML)...
Publishing date:
31 January 2019