News and press releases from the OSCE's global activities.
Publishing date:
15 December 2021
The OSCE Transnational Threats Department and the OSCE Presence in Albania jointly organized the online training course "Implementing Intelligence-Led Policing on Strategic and Operational Levels" on 9 and 10 December.
Publishing date:
14 December 2021
A high-level conference on raising awareness on gender inequalities and corruption took place on 10 December 2021, in hybrid format in Tirana. Organized by the OSCE Presence in Albania, the event marked the end of Integrity Week in Albania, which raised awareness of the opportunities that gender-specific approaches to fighting corruption offer to boost socio-economic growth, security, and to consolidate democracy.
Publishing date:
14 December 2021
"Enforced and involuntary disappearances in dictatorship and authoritarian past and contemporary settings: a social, legal and historical appraisal of transitional and transformation polices and mechanisms," was the topic of an international conference held in Tirana and online, from 13 to 15 December 2021.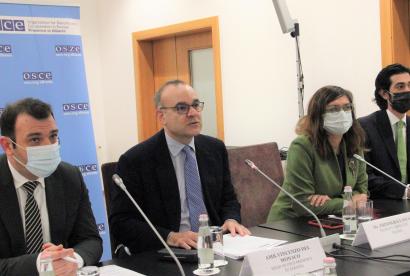 Publishing date:
9 December 2021
On the eve of International Human Rights Day, on 9 December 2021 the OSCE Presence in Albania organized a regional roundtable discussion for equality bodies and independent human rights institutions. Representatives from the Western Balkans discussed, in the hybrid-format meeting, their role and interactions with respect to judicial proceedings.
Publishing date:
30 November 2021
The OSCE Presence in Albania started a special training seminar for Albania's prison personnel, which aimed to train fifty staff members on how to manage detainees held under the special prison regime in compliance with human rights and freedoms. The seminar is taking place from 30 November to 3 December in Tirana.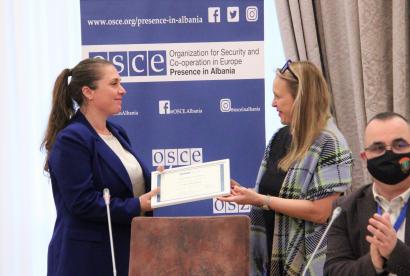 Publishing date:
25 November 2021
Today marked the seventh annual Media Development Forum, a platform for dialogue among media, state institutions and civil society organized by the OSCE Presence in Albania. This year's forum focused on the freedom and development of media in Albania.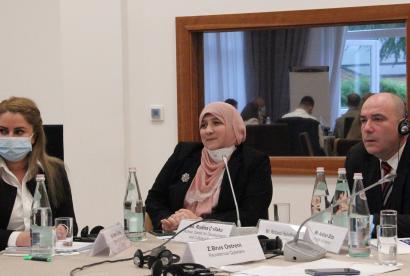 Publishing date:
23 November 2021
A two-day workshop on strengthening effective security sector governance through partnerships between security institutions and civil society concluded on 23 November 2021 in Tirana. The workshop was jointly organized by the OSCE Conflict Prevention Centre, the OSCE Presence in Albania and the Austrian Federal Ministry of Defence. It brought together some 28 representatives from Albanian state security institutions, civil society, and the media.