News and press releases from the OSCE's global activities.
Publishing date:
21 January 2020
Increasing the participation of women, national minorities and persons with disabilities at all stages of the electoral process is the focus of a conference taking place in Tirana on 21 and 22 January 2020...
Publishing date:
25 November 2019
TIRANA, 25 November 2019 – Today, on the first day of the Annual 16 Days of Activism on against Gender-Based Violence, the OSCE is launching an awareness raising campaign in Albania entitled "End the Silence". The campaign will take place during the 16 Days of Activism against Gender-Based Violence.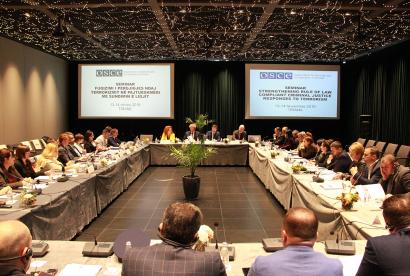 Publishing date:
14 November 2019
Strengthening rule of law-compliant criminal justice responses to terrorism was the aim of a two-day seminar which concluded on 14 November 2019 in Tirana. Over 40 Albanian practitioners from relevant government agencies, the Bar Association and civil society representatives attended the seminar...
Publishing date:
7 November 2019
OSCE Presence in Albania-supported public discussions held across Albania- in Shkodra, Durrës and Korça- on civil society's challenges and its future concluded on 7 November 2019 with the Korça Civil Society Forum...
Publishing date:
8 October 2019
Content type:
Press release
TIRANA, 8 October 2019 – The OSCE Presence in Albania and the OSCE Gender Section presented today the results of the OSCE-led Survey on the Well-being and Safety of Women for Albania...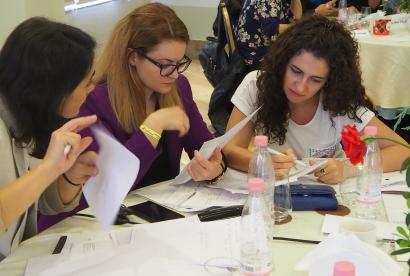 Publishing date:
27 September 2019
Twenty-three participants (including eight women) completed a five-day training course on 27 September 2019 held in Golem, Albania, aimed at further strengthening their capacity to counter the financing of terrorism. The participants were from Albania's General Directorate for the Prevention of Money Laundering, the State Intelligence Service (SHISH), the Albanian State Police, the Ministry of Justice and the Prosecution Office for Serious Crimes. The course was jointly organized by the OSCE's Transnational Threats Department, the OSCE Presence in Albania, the UN Office on Drugs and Crime (UNODC), and the International Criminal Investigative Training Assistance Program (ICITAP)...
Publishing date:
3 September 2019
A two-day train-the-trainer course on countering terrorist financing for participants from Albania was held on 2 and 3 September 2019 at the OSCE Secretariat in Vienna...