News and press releases from the OSCE's global activities.
Publishing date:
25 October 2019
More than 25 canine officers (K-9) of the State Committee for National Security, Ministry of Interior and the State Customs Services (KSCS) completed OSCE-supported advanced train–the-trainers courses at the World Customs Organization's Regional Training Centre in Bishkek from 7 to 25 October 2019...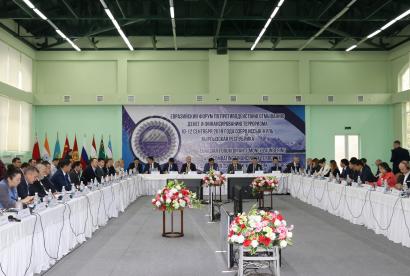 Publishing date:
16 September 2019
From 10 to 12 September 2019, the first Eurasian Forum for Anti-Money Laundering and Combating the Financing of Terrorism (AML/CFT) took place in Issyk-Kul province, Kyrgyzstan. The State Financial Intelligence Service under the Government of the Kyrgyz Republic (SFIS) and the Eurasian group on combating money laundering and financing of terrorism (EAG) organized this forum with the support of the OSCE Programme Office in Bishkek and the United Nations Office on Counter-Terrorism (UNOCT). 
Publishing date:
2 September 2019
A five-day training course aimed at strengthening the capacity of Kyrgyzstan to counter terrorist financing concluded in Issyk-Kul, Kyrgyzstan on 31 August 2019. It was organized by the OSCE's Transnational Threats Department, in co-operation with the OSCE Programme Office in Bishkek and the UN Office on Drugs and Crime (UNODC)...
Publishing date:
26 August 2019
A three-day national table-top exercise (TTX) on preventing and countering the use of the internet for terrorist purposes, for some 30 Kyrgyz representatives from diverse backgrounds and perspectives, including representatives of government, law enforcement, civil society, media, academia and the private sector, began on 25 August 2019 in Issyk Kul, Kyrgyzstan.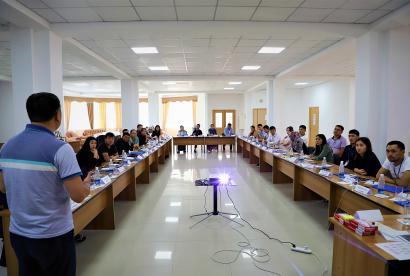 Publishing date:
18 June 2019
Some 30 young community activists from all seven provinces of Kyrgyzstan participated in an intensive three-day training workshop on the prevention of violent extremism and radicalization that lead to terrorism (VERLT). The event concluded on 18 June 2019 in Issyk-Kul, northern Kyrgyzstan.
Publishing date:
17 June 2019
The OSCE Programme Office in Bishkek organized a five-day training seminar for 20 customs officers from all regions of Kyrgyzstan introducing them to effective ways of tracking illicit drug trafficking, cybercrime, and legalization of criminal proceeds. The event was held at the Regional Training Centre of the World Customs Organization in Kyrgyzstan and concluded on 14 June 2019 in Bishkek.
Publishing date:
19 April 2019
A capacity-building training course for staff of the Probation body and Settlement colonies was organized in Osh, Kyrgyzstan by the OSCE Programme Office in Bishkek from 15 to 19 April 2019 on how to support the rehabilitation of persons convicted of crimes related to violent extremism and terrorism...