News and press releases from the OSCE's global activities.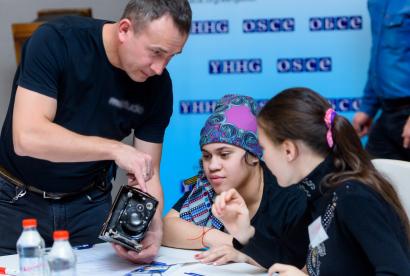 Publishing date:
28 February 2019
An OSCE-organized photography and photojournalism master class for persons with disabilities took place from 22 to 26 February 2019 in Ashgabat...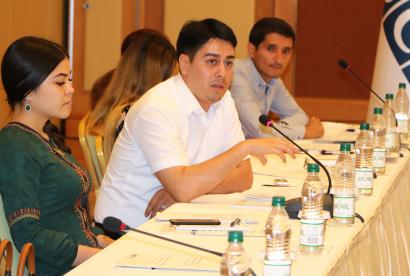 Publishing date:
29 August 2018
A two-day seminar organized by the OSCE Centre in Ashgabat on how to develop a module on freedom of expression for journalism faculties in Turkmenistan concluded on 29 August 2018. It brought together journalism instructors, representatives of national media and officials from relevant institutions
Publishing date:
22 May 2018
Representatives of Turkmenistan's State Committee for Television, Radio and Cinematography, lawmakers, journalists and officials from relevant ministries and research and educational institutions discussed broadcasting regulation and new models of broadcasting at an OSCE-supported seminar. The event took place in Ashgabat on 21 and 22 May 2018...
Publishing date:
20 July 2017
Journalists from Turkmenistan's media, judges from the supreme, city and district courts, lawyers from the bar association and participated in an OSCE-supported training course on the journalists' rights and duties on 19-20 July 2017 in Ashgabat...
Publishing date:
23 May 2017
Topical issues of modernizing media legislation in line with OSCE commitments and international standards were the focus of an OSCE-organized event that took place in Ashgabat on 22 and 23 May 2017...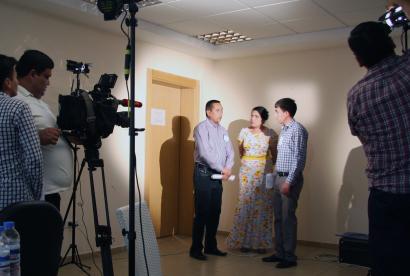 Publishing date:
5 May 2017
An OSCE-organized course on TV coverage of major events for editors and camera operators from Turkmenistan's TV channels concluded on 5 May 2017 in Ashgabat...
Publishing date:
23 September 2016
On 23 September 2016, the OSCE Centre in Ashgabat organized a seminar on innovative methods of teaching journalism for 15 instructors from the International University for Humanities and Development, Magtymguly Turkmen State University, Foreign Ministry's Institute of International Relations and the National Institute of Sports and Tourism of the State Committee for Tourism and Sports of Turkmenistan...