News and press releases from the OSCE's global activities.
Publishing date:
26 November 2021
On 25 and 26 November 2021, the OSCE Center in Ashgabat organized an online seminar on developing and introducing training courses focused on preventing and responding to domestic violence for the institutions and academies of the law enforcement bodies of Turkmenistan.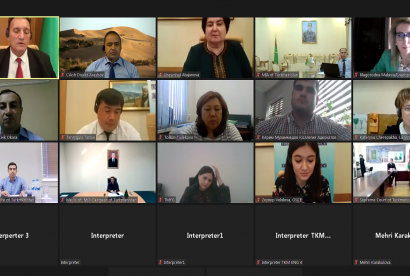 Publishing date:
7 September 2021
A two-day online event on the prevention and criminalization of domestic violence in Turkmenistan started today on 7 September 2021.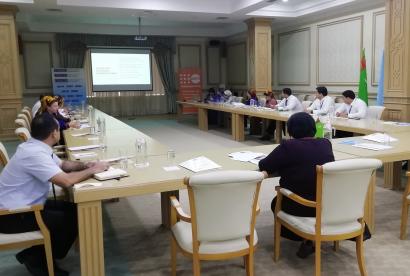 Publishing date:
16 July 2021
Promoting gender equality in Turkmenistan took the focus of a six-part roundtable discussion series organized by the OSCE Centre in Ashgabat in partnership with the United Nations Population Fund (UNFPA) and Institute of State, Law and Democracy of Turkmenistan from 7 to 16 July 2021.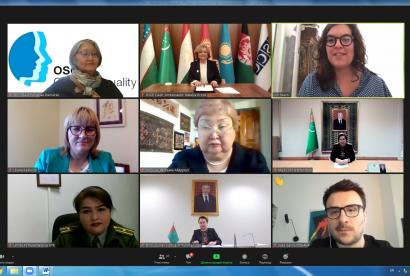 Publishing date:
16 March 2021
Content type:
Press release
ASHGABAT, 16 March 2021- Encouraging an inclusive dialogue on the role of women in maintaining peace and promoting trust was the aim of an OSCE-supported regional forum that took place today virtually.
Publishing date:
5 August 2020
The OSCE Centre in Ashgabat organized an online roundtable discussion on gender mainstreaming in border and security management from 3 to 5 August 2020. The event brought together representatives of the State Border, Customs and Migration Services of Turkmenistan, and was held as part of an extra-budgetary project on strengthening the capacities of the State Border Service of Turkmenistan. The roundtable aimed to acquaint participants with best international practices in promoting gender aspects in law enforcement activities...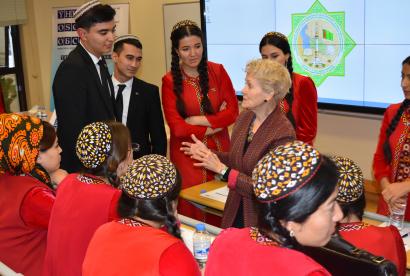 Publishing date:
5 December 2018
Over 70 university students and teaching staff attended lectures on the role of women in the security and development process from 3 to 5 December 2018 in Ashgabat. The event was organized by OSCE Centre in Ashgabat. Swanee Hunt, the Eleanor Roosevelt Lecturer in Public Policy at the Harvard Kennedy School of Government in the United States, delivered the lectures, focusing on women's active participation in conflict prevention and resolution, peace building and policy making.
Publishing date:
29 April 2015
Content type:
Press release