News and press releases from the OSCE's global activities.
Publishing date:
29 August 2019
Henrik Villadsen, the OSCE Project Co-ordinator in Ukraine (PCU) and Kostiantyn Vashchenko, the Head of the National Agency of Civil Service of Ukraine, signed a memorandum of understanding to promote wider use of conflict management approaches in public service. The signing ceremony took place on 29 August 2019 at a ceremony in Kyiv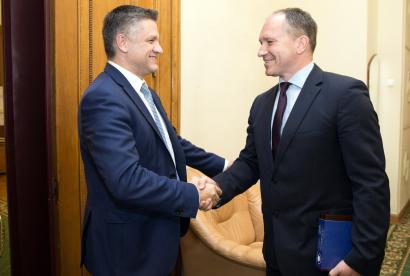 Publishing date:
28 September 2016
The OSCE Project Co-ordinator in Ukraine, Vaidotas Verba and Dmytro Shymkiv, Deputy Head of Ukraine President's Administration of President of Ukraine, who is also Secretary of the National Reforms Council (NRC), met on 27 September 2016 in Kyiv to discuss continuing support to the country's reform agenda. National Reforms Council is a consultative body created under the President of Ukraine to plan, promote and track implementation of reforms...