News and press releases from the OSCE's global activities.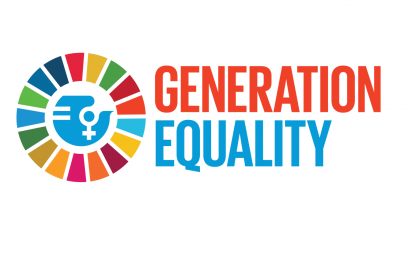 Publishing date:
8 July 2021
The Generation Equality Forum is the largest global gathering on gender equality since the landmark "Fourth World Conference on Women" in Beijing in 1995. The Forum aims to generate urgent action and accountability for gender equality, and to accelerate the implementation of the commitments made in Beijing. It is convened by UN Women and co-hosted by France and Mexico in partnership with youth and civil society.
Publishing date:
5 July 2021
OSCE Men for Gender Equality, an informal group of staff from the OSCE Secretariat, conducted a fundraiser from March 8 to April 7 in support of efforts to respond to gender-based violence that raised EUR 3,000.
Publishing date:
1 July 2021
Content type:
Press release
PARIS, 1 July 2021 – The OSCE has pledged to improve gender equality by taking action on Gender Based Violence, Economic Justice and Rights and Technology & Innovation.
Publishing date:
15 June 2021
The important role of women in water management was discussed on 10 June 2021 in an online side-event in the margins of the Second Preparatory Meeting of the 29th OSCE Economic and Environmental Forum. The Office of the Co-ordinator of OSCE Economic and Environmental Activities (OCEEA) organized the event in collaboration with the Governments of Finland, Ireland and Japan...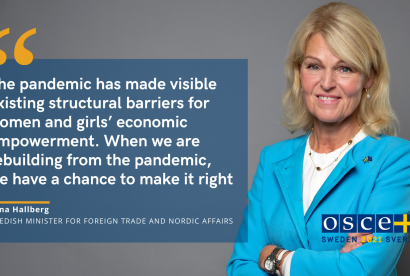 Publishing date:
10 June 2021
Content type:
Press release
VIENNA/STOCKHOLM, 10 June 2021 – Women have disproportionately suffered socio-economic consequences during the COVID-19 pandemic. At today's 2nd Preparatory meeting of the OSCE Economic and Environmental Forum (EEF) participants stressed the need for policies that will ensure a more level playing field for women, now that a return to 'normalcy' seems within reach. Promoting equal opportunities for women is a key factor for securing prosperity, stability and security...
Publishing date:
19 May 2021
Innovative approaches to evidence-based lawmaking to prevent and combat violence against women was the topic of an event organized by the OSCE Secretariat's Gender Issues Programme, the OSCE Office for Democratic Institutions and Human Rights (ODIHR) and the OSCE Parliamentary Assembly on 19 May 2021.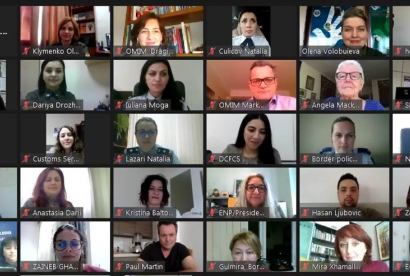 Publishing date:
24 March 2021
More than 90 participants took part in an online workshop on gender mainstreaming in human resources departments of border and law enforcement agencies, which was organized on 23 March 2021 by the Border Security and Management Unit in the OSCE's Transnational Threats Department.