News and press releases from the OSCE's global activities.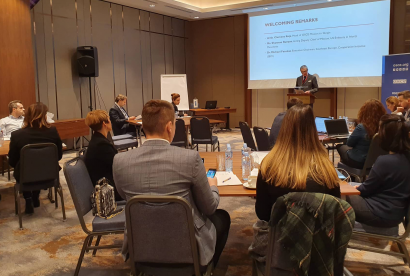 Publishing date:
6 December 2019
Government representatives, civil society members, and open data experts from Eastern and South Eastern Europe emphasized the importance of the use of open data and new digital technologies in preventing and combating corruption at an OSCE-organized workshop on 2 and 3 December 2019 in Skopje...
Publishing date:
5 December 2019
Content type:
Press release
BRATISLAVA, 5 December 2019 – On the margins of today's 26th Ministerial Council in Bratislava, the OSCE launched a virtual competency and training centre on the protection of critical energy networks. Chairperson-in-Office and Minister of Foreign and European Affairs of the Slovak Republic Miroslav Lajčák, together OSCE Secretary General Thomas Greminger officially inaugurated the virtual training center.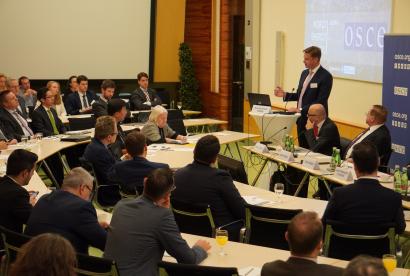 Publishing date:
29 November 2019
The impact of big data and digitalization on energy, security and society was the focus of the 2nd Vienna Energy Strategy Dialogue, which concluded on 29 November 2019 in Vienna...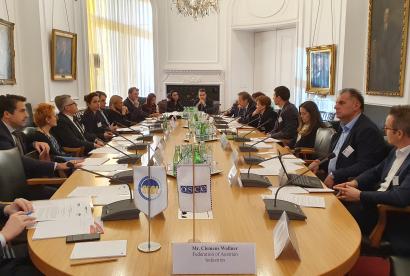 Publishing date:
15 November 2019
Representatives from the private sector, chambers of commerce, and business associations from South-East European countries stressed the importance of attracting foreign investment as a crucial factor for stability in low and middle-income economies as a two-day workshop, organized by the OSCE and the Southeast European Cooperation Initiative (SECI), concluded on 15 November 2019 in Vienna...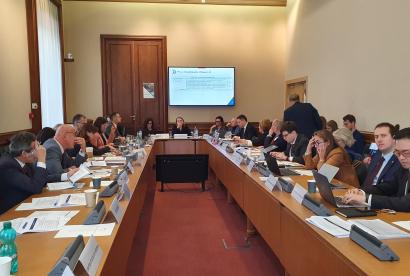 Publishing date:
31 October 2019
Anti-corruption performance indicators based on benchmarks of international standards and good practices were the focus of an OSCE-supported workshop on 30 and 31 October 2019 in Paris...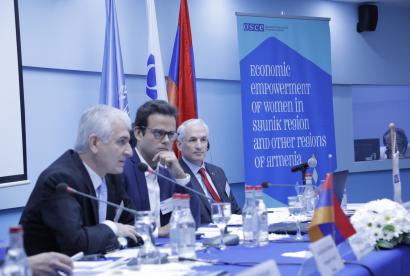 Publishing date:
31 October 2019
As part of the celebrations to mark the 100th anniversary of the establishment of the International Labour Organization, the Office of the Co-ordinator of OSCE Economic and Environmental Activities and the Republican Union of Employers of Armenia (RUEA) co-organized the event "Leaving no one behind: Promoting social economy for an inclusive and prosperous Armenia" on 30 October 2019 in Yerevan. Discussions at the event focused on promoting financial stability and social cohesion through more effective eco-systems for social enterprises.
Publishing date:
30 October 2019
Content type:
Press release
TURKMENBASHI, Turkmenistan, 30 October 2019- Two OSCE-supported events launched activities in Turkmenistan aimed at promoting green ports and connectivity in the Caspian Sea region. A roundtable discussion for experts on 29 October took place in Ashgabat and a technical workshop was held on 30 October at the Turkmenbashi International Seaport.