News and press releases from the OSCE's global activities.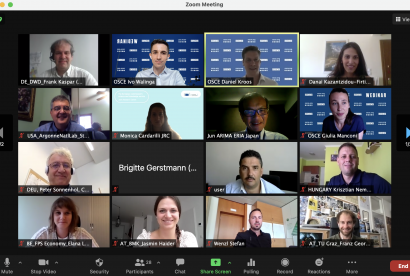 Publishing date:
15 July 2021
The necessity to identify and address threats to energy networks through robust and effective risk prevention and management policies has never been greater, said experts during an OSCE webinar on protecting critical energy infrastructures in the age of extreme weather held on 13 July 2021.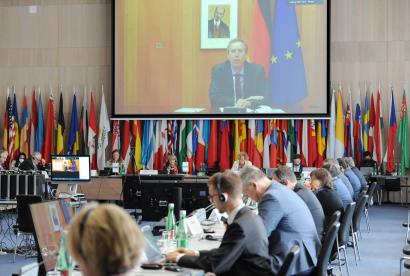 Publishing date:
5 July 2021
Content type:
Press release
VIENNA, 5 July 2021 – Thirty years on from the 1990 Bonn Document, the OSCE hosted a conference reviewing how to continue contributing to European peace, security and prosperity through a market-based economy and environmental protection...
Publishing date:
30 June 2021
The OSCE organized a second workshop on social re-use of confiscated assets in Bosnia and Herzegovina on 29 June 2021. Representatives of asset management agencies and civil society organizations in Bosnia and Herzegovina, as well as experts on social re-use of confiscated assets from international civil society organizations participated in the workshop.
Publishing date:
14 June 2021
Advancing beneficial ownership reform in the Western Balkans, transparency, and common challenges were the focus of an online workshop, on 14 June 2021, organized by the OSCE, jointly with the Open Government Partnership (OGP), and German Corporation for International Cooperation (GIZ)...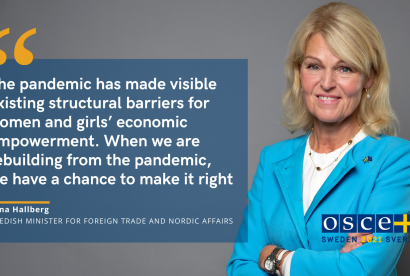 Publishing date:
10 June 2021
Content type:
Press release
VIENNA/STOCKHOLM, 10 June 2021 – Women have disproportionately suffered socio-economic consequences during the COVID-19 pandemic. At today's 2nd Preparatory meeting of the OSCE Economic and Environmental Forum (EEF) participants stressed the need for policies that will ensure a more level playing field for women, now that a return to 'normalcy' seems within reach. Promoting equal opportunities for women is a key factor for securing prosperity, stability and security...
Publishing date:
6 May 2021
Economic connectivity perspectives and the operationalization of Euro-Asian inland transport links (EATL) were the focus of two rounds of virtual consultations held by the OSCE and the UN Economic Commission for Europe (UNECE) on 25 March 2021 and 6 May 2021...
Publishing date:
6 May 2021
On 5 May 2021, the Serbian Directorate for the Administration of Seized Assets, eight local civil society organizations (CSOs) and OSCE experts discussed opportunities and modalities to socially re-use assets confiscated from organized crime...