News and press releases from the OSCE's global activities.
Publishing date:
17 July 2020
OSCE Secretary General Thomas Greminger and the Executive Director of the United Nations Office on Drugs and Crime (UNODC) Ghada Fathi Waly signed a plan of joint action for the period 2020-2022 today at UNODC in Vienna...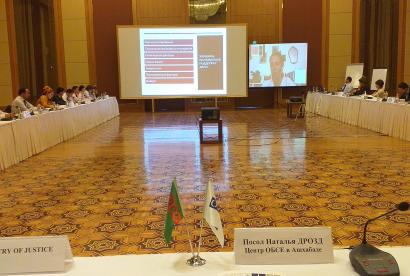 Publishing date:
25 June 2020
Strengthening rule of law compliant criminal justice responses to terrorism was the aim of an online seminar that concluded on 25 June 2020. Practitioners from relevant government agencies attended this event in Ashgabat, while international experts joined in online from their respective duty stations.
Publishing date:
3 June 2020
A three-day online training course aimed at strengthening the capacity of Turkmenistan to counter terrorist financing was organized from 1 to 3 June 2020. Eighteen experts and practitioners from the Financial Monitoring Service under the Ministry of Finance and Economy, the Ministries of Internal Affairs and of National Security, and the Prosecutor's Office of Turkmenistan participated in the course...
Publishing date:
2 June 2020
Seventeen young men and women from across North Macedonia participated in an online capacity-building training course for youth leaders on preventing violent extremism and radicalization that lead to terrorism (P/CVERLT). The OSCE Mission to Skopje organized the course, held from 19 May to 2 June 2020, with technical support provided by the Action against Terrorism Unit of the OSCE Transnational Threats Department. The course builds on a module delivered in February...
Publishing date:
25 May 2020
The Action against Terrorism Unit of the OSCE Transnational Threats Department launched an E-learning Course on Preventing and Countering the Use of the Internet for Terrorist Purposes on 25 May 2020...
Publishing date:
21 April 2020
How to handle electronic evidence, and in particular, request electronic evidence across borders, to support counter-terrorism efforts was the focus of an online workshop held on 21 April 2020 that brought together national experts from 13 countries and several international organizations...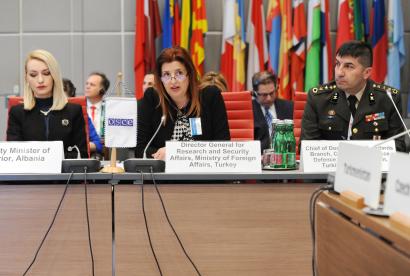 Publishing date:
27 February 2020
Content type:
Press release
VIENNA, 27 February 2020 – Enhancing co-operation between the OSCE's Forum for Security Co-operation (FSC) and the Permanent Council (PC) in preventing and countering terrorism was the focus of a joint meeting of the FSC and PC held on 26 February in Vienna under Turkey's FSC Chairmanship and Albania's OSCE Chairmanship. The discussions focused on how the FSC, as the OSCE's leading decision-making body in the politico-military sphere, can contribute, in line with its mandate and existing instruments, to the OSCE's comprehensive approach to combating terrorism...