News and press releases from the OSCE's global activities.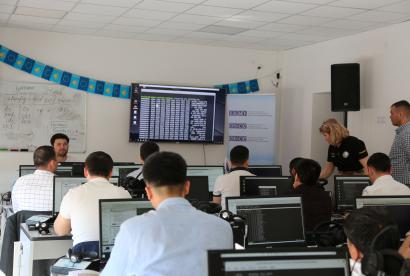 Publishing date:
20 May 2022
Law enforcement experts from Kazakhstan, Kyrgyzstan and Uzbekistan have improved their capacity to fight cybercrime through a training course organized on 16-20 May by the OSCE Transnational Threats Department in close co-operation with the OSCE Programme Office in Nur-Sultan and the Law Enforcement Academy under the General Prosecutor's Office of the Republic of Kazakhstan.
Publishing date:
26 November 2021
A five-day OSCE regional train-the-trainers course on cybercrime for criminal justice practitioners from the five Central Asian OSCE participating States concluded on 26 November 2021. The course aimed to provide practitioners with the knowledge and skills necessary for developing and delivering professional training courses on this topic.
Publishing date:
12 November 2021
The rapid growth of technology and social media has redefined how people communicate. It has also significantly changed the way organized crime groups operate.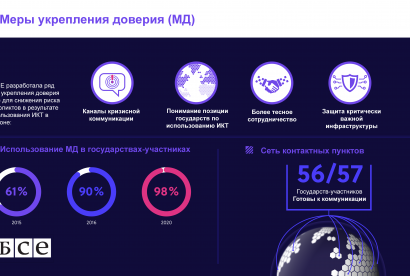 Publishing date:
8 July 2021
The OSCE's Transnational Threats Department released a Russian-language version of its new e-learning course on OSCE cyber/ICT security Confidence-Building Measures (CBMs) on 8 July 2021.
Publishing date:
24 June 2021
The OSCE Transnational Threats Department (TNTD) contributed to the 2021 Kuban Cyber-Security Conference held online and in-person in Krasnodar, Russia on 23 and 24 June 2021.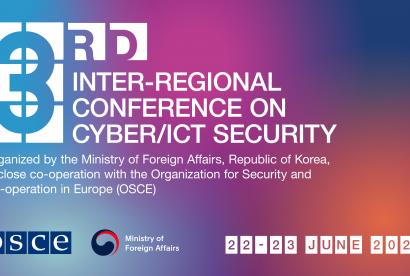 Publishing date:
24 June 2021
How international co-operation can lead to a more stable, predictable and safe cyberspace, was the focus of the 3rd Inter-Regional Conference on Cyber/ICT Security. The Republic of Korea and the OSCE organized the event, held in Vienna in a virtual setting on 22 and 23 June, with the participation of 280 governmental and non-state representatives...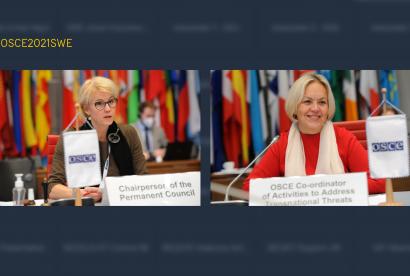 Publishing date:
4 May 2021
Content type:
Press release
VIENNA/STOCKHOLM, 4 May 2021 — With society more interconnected through technology than ever before, multilateral engagement is key to building confidence and trust to ensure an open and secure cyberspace, participants agreed during the opening session of the OSCE-wide Cyber/ICT Security Conference held online today.