News and press releases from the OSCE's global activities.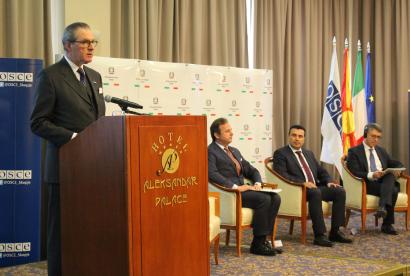 Publishing date:
22 February 2019
Content type:
Press release
SKOPJE, 22 February 2019 – The Prime Minister, the Ministers of the Interior and Justice and the New President of the State Commission for Prevention of Corruption addressed a conference on the role of law enforcement agencies in the struggle against corruption, which was organized by the OSCE Mission in Skopje and the Italian Embassy today...
Publishing date:
20 December 2018
The OSCE Mission to Skopje presented today a Legal Commentary on the Law on Criminal Procedure, the first of its kind, prepared by a group of legal experts that will help lawyers, judges and prosecutors apply the Law in a better and more uniform fashion in the courts.
Publishing date:
21 September 2018
Representatives of twenty municipal councils were introduced to an the OSCE training programme designed to promote democratic governance through improved work of local elected officials during the promotional events that took place in Ohrid and Skopje on 19, 20 and 21 September.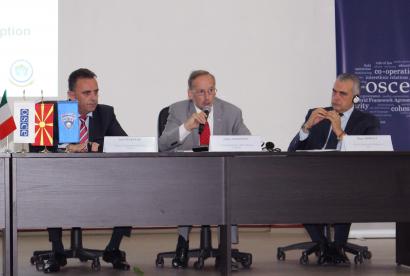 Publishing date:
21 June 2018
A two-day workshop aimed at assisting representatives of law enforcement bodies to combat corruption concluded on 21 June 2018 in Skopje.
Publishing date:
11 December 2015
The OSCE Mission to Skopje organized a public forum in Kichevo municipality on 11 December 2015 to promote the inclusion of civil society in decision-making process and to increase the co-operation between the municipality and the civil sector in policy implementation...
Publishing date:
5 June 2015
A Train-the-trainers course supported by the OSCE Mission to Skopje for ten public relations advisors and regional police spokespersons from the Interior Ministry will be held in Skopje on 5 and 6 June 2015...
Publishing date:
18 May 2015
The OSCE Mission to Skopje signed a Memorandum of Understanding with Gjorce Petrov municipality, on 15 May 2015, to introduce the Common Assessment Framework (CAF) model as quality instrument in the work of the municipal administration...