News and press releases from the OSCE's global activities.
Publishing date:
20 December 2019
SKOPJE, 20 December 2019 – According to the OSCE-supported Survey on Public Perception of Democratic Policing presented in Skopje today, over the last two years there has been an increase in the overall level of satisfaction and trust of citizens with the police.
Publishing date:
10 December 2019
Content type:
Press release
SKOPJE, 10 December 2019 – A series of OSCE Mission to Skopje-supported strategies designed to further professionalize and democratize the police were presented today in Skopje...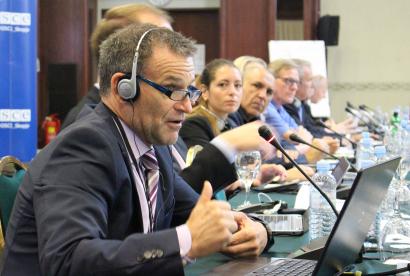 Publishing date:
8 November 2019
An OSCE regional training workshop dedicated to criminal intelligence databases and IT structures supporting intelligence-led policing (ILP) took place on 7 and 8 November 2019 in Skopje.
Publishing date:
28 September 2018
Enhancing the capacities of law enforcement officers to counter religiously motivated terrorist organizations in line with international best practices was the aim of a five-day training course for some 20 counter-terrorism officers from the Interior Ministry, which concluded on 28 September 2018. The course was organized by the OSCE Mission to Skopje, in co-operation with the Turkish National Police...
Publishing date:
12 June 2018
Content type:
Press release
SKOPJE, 12 June 2018 – Improving the safety of journalists during critical events was the focus of an OSCE-supported workshop today in Skopje, which brought together some 20 journalists and police officers...
Publishing date:
7 September 2017
The OSCE Guidebook on Intelligence-Led Policing (ILP) was promoted on 6 September 2017 in Skopje, during a regional event which brought together some 50 representatives of the public security sector from South-Eastern European countries...
Publishing date:
20 April 2017
The OSCE Mission to Skopje on 20 April 2017 presented the findings and recommendations of an evaluation of the OSCE's training courses for police on the Law on Criminal Procedure, which were conducted between 2011 and 2015...