News and press releases from the OSCE's global activities.
Publishing date:
27 June 2019
More than 30 women MPs from North Macedonia and South-Eastern Europe enhanced their knowledge on gender-sensitive parliaments and use of public funding for gender equality during the OSCE-supported event that ended on 27 June 2019 in Skopje.
Publishing date:
15 May 2019
The OSCE Mission to Skopje and the OSCE Gender Section presented on 15 May 2019 in Skopje a survey that shows that violence against women in North Macedonia is often underreported and that some forms of physical and sexual violence are widespread in the country. The research finds there is a particular need for more support and targeted action to help women from minority groups and from rural areas...
Publishing date:
2 April 2019
An OSCE-supported one-day gender assessment workshop focusing on ways to strengthen women's participation in the parliament took place in Skopje on 2 April 2019.
Publishing date:
29 June 2016
The OSCE Mission to Skopje on 28 June 2016 launched a two-day workshop for 22 members of the Police Union on countering gender-based discrimination with the aim of advancing the position of women in police services and increasing gender sensitivity among police officers...
Publishing date:
9 December 2015
Content type:
Press release
SKOPJE, 9 December 2015 – Fostering a gender balance and promoting women's rights in the police service is the aim of today's OSCE-supported networking meeting taking place in Skopje, which will bring together 35 representatives from the Ministry of Internal Affairs (MoIA), the national Police Union and the Association of Women in the Kosovo Police (AWKP)...
Publishing date:
15 October 2015
Mentoring is one of the most effective strategies to promote women's participation in public and political life, said participants of an expert meeting in Skopje organized by the OSCE Gender Section on 12 October 2015, which brought together representatives of civil society, politics, business and academia from across the Western Balkans...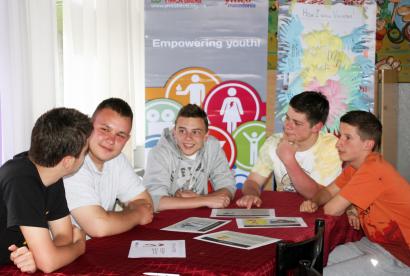 Publishing date:
27 June 2014
For third consecutive year, the OSCE Mission to Skopje supported a week-long camp from 18 to 24 June 2014 as part of the Young Men Leadership Project, organized by YMCA Bitola and US Peace Corps in Krusevo. One of the themes of this year's camp was gender equality...