News and press releases from the OSCE's global activities.
Publishing date:
27 September 2021
A three-day training course aimed at further strengthening the capacity of North Macedonia to counter terrorist financing concluded on 23 September 2021 in Ohrid.
Publishing date:
2 June 2020
Seventeen young men and women from across North Macedonia participated in an online capacity-building training course for youth leaders on preventing violent extremism and radicalization that lead to terrorism (P/CVERLT). The OSCE Mission to Skopje organized the course, held from 19 May to 2 June 2020, with technical support provided by the Action against Terrorism Unit of the OSCE Transnational Threats Department. The course builds on a module delivered in February...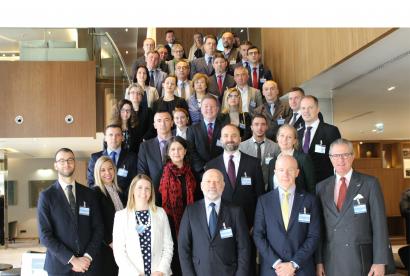 Publishing date:
20 November 2019
How to strengthen critical infrastructure against terrorist attacks is being explored at a three-day regional expert workshop for national representatives from eight OSCE participating States in South-Eastern Europe, which opened on 19 November 2019 in Skopje...
Publishing date:
19 November 2018
Representatives of the municipal administration, local institutions, civil society, education sector, youth, women as well as religious and local community leaders gathered at an OSCE roundtable in Tetovo on 19 November 2018 to discuss the implementation of the National Countering Violent Extremism (CVE) Strategy and Action Plan at the local level...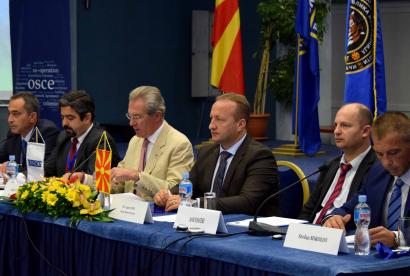 Publishing date:
16 October 2018
Content type:
Press release
Best practices in dealing with violent extremism and radicalization that lead to terrorism (VERLT), particularly the challenge of returning foreign fighters, is the focus of a three-day international conference that opened in Ohrid on 16 October 2018...
Publishing date:
28 September 2018
Enhancing the capacities of law enforcement officers to counter religiously motivated terrorist organizations in line with international best practices was the aim of a five-day training course for some 20 counter-terrorism officers from the Interior Ministry, which concluded on 28 September 2018. The course was organized by the OSCE Mission to Skopje, in co-operation with the Turkish National Police...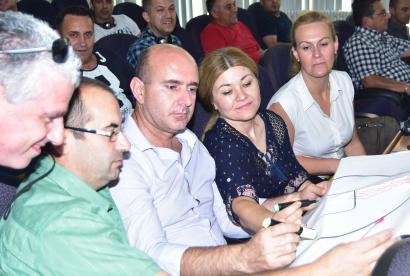 Publishing date:
5 July 2018
From 3 to 5 July 2018 the OSCE Mobile Training Team delivered in Skopje an interactive course on identifying foreign terrorist fighters for country's 24 border and security services officers...