News and press releases from the OSCE's global activities.
Publishing date:
6 May 2021
On 5 May 2021, the Serbian Directorate for the Administration of Seized Assets, eight local civil society organizations (CSOs) and OSCE experts discussed opportunities and modalities to socially re-use assets confiscated from organized crime...
Publishing date:
20 November 2020
The impact of the COVID-19 pandemic on the work of prosecutors' offices was the focus of the fifth meeting of the Executive Board of the Permanent Conference of Organized Crime Prosecutors (PCOCP) on 12 November 2020. The meeting was held online with the support of the OSCE Mission to Serbia...
Publishing date:
19 December 2019
Representatives from police services and prosecution offices of Albania, Bosnia and Herzegovina, Montenegro, North Macedonia and Serbia completed a three-day workshop organized by the OSCE in Belgrade on 19 December 2019 on promoting closer co-operation and mutual legal assistance requests among countries of South-Eastern Europe to fight organized crime, particularly through the recovery of criminal assets...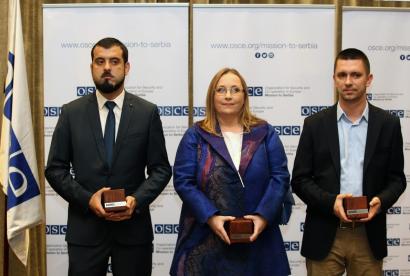 Publishing date:
26 November 2019
Content type:
Press release
BELGRADE, 26 November 2019 – The OSCE Mission to Serbia will present its 2019 Person of the Year Award at a ceremony today in Belgrade. The recipients of this year's award are: Bojan Cvejić, Web Executive Director and Editor-in-Chief at the daily Danas, Sonja Stonajović Gajić, member of the Managing Board of the Belgrade Centre for Security Policy (BCBP) and Aleksandar Ivanović, Director of the Citizen's Association Monitor from Novi Pazar...
Publishing date:
10 October 2019
Content type:
Press release
BELGRADE, 10 October 2019 – OSCE Secretary General Thomas Greminger concluded today a two-day visit to Serbia where he met with high-level state officials and representatives of the opposition, civil society and the media...
Publishing date:
4 June 2019
Content type:
Press release
BELGRADE, 4 June 2019 – Visiting Serbia today as part of his commitment to visit all OSCE field missions, the OSCE Chairperson-in-Office Slovak Foreign and European Affairs Minister Miroslav Lajčák, together with First Deputy Prime Minister and Minister of Foreign Affairs of Serbia Ivica Dačić and the Head of the OSCE Mission to Serbia, Andrea Orizio, opened the High-Level Discussion on Security Sector Governance and Reform (SSG/R) in South-Eastern Europe in Belgrade...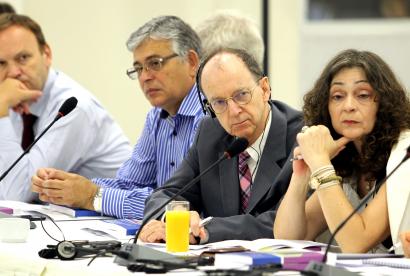 Publishing date:
8 June 2018