News and press releases from the OSCE's global activities.
Publishing date:
26 November 2019
Content type:
Press release
BELGRADE, 26 November 2019 – The OSCE Mission to Serbia will present its 2019 Person of the Year Award at a ceremony today in Belgrade. The recipients of this year's award are: Bojan Cvejić, Web Executive Director and Editor-in-Chief at the daily Danas, Sonja Stonajović Gajić, member of the Managing Board of the Belgrade Centre for Security Policy (BCBP) and Aleksandar Ivanović, Director of the Citizen's Association Monitor from Novi Pazar...
Publishing date:
17 September 2019
The OSCE Mission to Serbia, in co-operation with Serbia's institutions, launched the 2019 Professional Practice Programme on 17 September in Belgrade. The Programme enables five young professionals from Novi Pazar and Raška, southwest Serbia, to work with central institutions from September to December 2019. It is the first part of the two-year project Legal Learning Project for Southwest Serbia, funded by the U.S. Mission to the OSCE...
Publishing date:
29 January 2019
Content type:
Press release
BELGRADE, 29 January 2019 – Concluding a three-day visit to Serbia, Samuel Goda, the Special Representative of the Slovak OSCE Chairmanship on Youth and Security, highlighted the crucial role of youth in strengthening comprehensive security and co-operation. Goda reiterated that for Slovakia young people are key for a safer future in Europe...
Publishing date:
3 December 2018
The second OSCE-supported intercultural camp in Brčko was held from 29 November to 3 December 2018. The OSCE Mission to BiH, in partnership with the OSCE Mission to Serbia and the Education Department of the Brcko District government, organized the follow-up camp to heighten the participants' awareness of their potential role in promoting civic education, human rights, inter-cultural dialogue, as well as in tackling peer violence and other security threats.
Publishing date:
14 December 2017
Regional youth co-operation, the digital engagement of young people, and societal changes and opportunities enabled by the generation of young people commonly referred to as millennials were the focus of an international conference held in Belgrade on 13 and 14 December 2017...
Publishing date:
7 November 2017
Fostering regional dialogue through youth connectivity between Serbia and Bosnia and Herzegovina, while also promoting youth resilience to security risks in local communities was the focus of a youth intercultural camp held in Kopanik, Serbia, from 3 to 7 November 2017...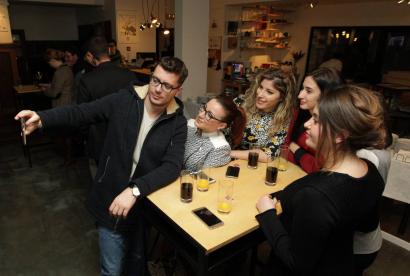 Publishing date:
22 November 2016
A five-day training course on project cycle management for representatives of youth civil society organizations from Serbia and Albania, started on 21 November 2016 in Zlatibor, Serbia, as part of a wider project on enhancing regional connectivity among youth actors from the two states...