News and press releases from the OSCE's global activities.
Publishing date:
6 May 2021
On 5 May 2021, the Serbian Directorate for the Administration of Seized Assets, eight local civil society organizations (CSOs) and OSCE experts discussed opportunities and modalities to socially re-use assets confiscated from organized crime...
Publishing date:
20 November 2020
The impact of the COVID-19 pandemic on the work of prosecutors' offices was the focus of the fifth meeting of the Executive Board of the Permanent Conference of Organized Crime Prosecutors (PCOCP) on 12 November 2020. The meeting was held online with the support of the OSCE Mission to Serbia...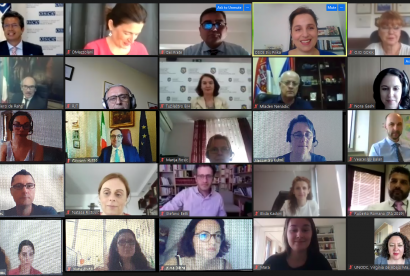 Publishing date:
9 July 2020
The OSCE Transnational Threats Department (TNTD), the Office of the Co-ordinator of OSCE Economic and Environmental Activities (OCEEA) and the OSCE Mission to Serbia organized a webinar on the exploitation of the COVID-19 pandemic by organized crime groups on 8 July 2020.
Publishing date:
6 March 2020
On the second anniversary of Serbia's Interior Ministry's Anti-Corruption Department, held in Belgrade on 6 March 2020, ten Serbian police officers received diplomas after successfully completing internationally accredited courses in financial crime forensics...
Publishing date:
3 May 2018
Content type:
Press release
VIENNA, 3 May 2018 – The Organization for Security and Co-operation in Europe (OSCE) opens today a Call for Candidacies for 18 fully-paid scholarships at the European Innovation Academy (EIA), one of the world's leading summer entrepreneurship programmes for young professionals, students, recent graduates and young start-uppers...
Publishing date:
14 December 2017
Some 100 high-level officials from the region dealing with the fight against corruption and senior representatives of Serbian institutions, civil society organizations and the media gathered for a regional conference in Belgrade on 14 December 2017 to mark the International Anti-Corruption Day.
Publishing date:
16 June 2017
Some 40 court presidents, prosecutors, judges, deputy prosecutors and representatives of the Ministry of Interior`s Service for Combating Organized Crime discussed the impact of recently introduced amendments to the Law on Seizure of the Proceeds from Crime during the joint OSCE Mission to Serbia/Prosecutor's Office for Organized Crime (POOC) roundtable discussion in Belgrade on 16 June 2017...