News and press releases from the OSCE's global activities.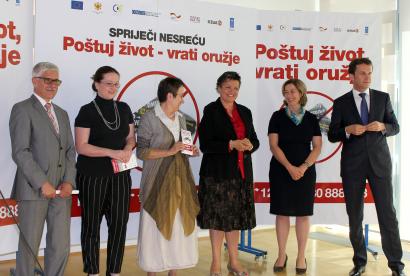 Publishing date:
29 June 2015
A comprehensive Small Arms and Light Weapons (SALW) Public Awareness and Illicit Weapons Collection Campaign, under the slogan of 'Respect Life – Return Weapons', has been jointly launched by OSCE Mission in Montenegro and the partners for implementation. They include the Ministry of Interior of Montenegro, UNDP and the Centre for Democratic Transition. The Campaign is financially supported by the EU and the Government of the Federal Republic of Germany...
Publishing date:
4 December 2014
Content type:
Press release
BASEL, Switzerland, 4 December 2014 – Today, after 18 years, Bosnia and Herzegovina, Montenegro, Croatia and Serbia are taking over full responsibility for regional stability and arms control, essential for building peace and stability in the Western Balkans, with senior politicians from the four countries signing a document on the 21st OSCE Ministerial Council in Basel...
Publishing date:
3 July 2007
Content type:
Press release
PODGORICA, 3 July, 2007- The main gun barrel of the first of 61 surplus T 55 tanks of the Montenegrin armed forces was cut today to mark the beginning of implementation of the Montenegro Demilitarization Programme (MONDEM).