News and press releases from the OSCE's global activities.
Publishing date:
10 October 2019
Content type:
Press release
BELGRADE, 10 October 2019 – OSCE Secretary General Thomas Greminger concluded today a two-day visit to Serbia where he met with high-level state officials and representatives of the opposition, civil society and the media...
Publishing date:
8 October 2019
Content type:
Press release
TIRANA, 8 October 2019 – The OSCE Presence in Albania and the OSCE Gender Section presented today the results of the OSCE-led Survey on the Well-being and Safety of Women for Albania...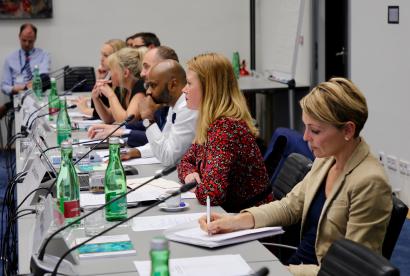 Publishing date:
2 October 2019
More than 40 representatives of law enforcement agencies, government and practitioners as well as international organizations gathered in Vienna on 2 October 2019 for the official launch of the OSCE handbook on Understanding the Role of Gender in Preventing and Countering Violent Extremism and Radicalization That Lead to Terrorism: Good Practices for Law Enforcement. The handbook, the first of its kind, is the result of a two-year collaborative effort by experts on gender, security sector and countering violent extremism based on case studies from across the OSCE area...
Publishing date:
16 September 2019
Content type:
Press release
WARSAW, 16 September 2019 – The OSCE today presented a report focusing on experiences of disadvantaged groups of women at the OSCE annual human rights conference, the Human Dimension Implementation Meeting, in Warsaw. The report provides a detailed picture of violence experienced by disadvantaged women in South-Eastern and Eastern Europe.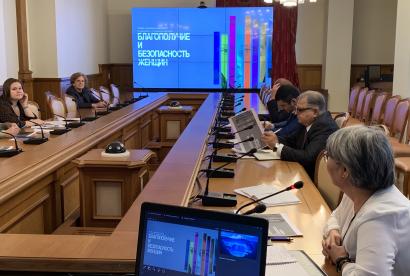 Publishing date:
7 August 2019
The OSCE Senior Adviser on Gender Issues, Amarsanaa Darisuren, visited the Russian Federation from 29 to 31 July 2019 with the aim of further enhancing links and co-operation in the field of gender equality. She held discussions with representatives from the Ministries of Foreign Affairs, Labour and Social Protection, and Higher Education and Science, as well as the Office of the Prosecutor General and the Office of High Commissioner for Human Rights in the Russian Federation. She also met with the Chair of the Women's Union of Russia and the Chair of the national NGO Business Women of Russia...
Publishing date:
5 July 2019
Content type:
Press release
Vienna, 5 July 2019 – Including women at all stages of the planning and decision-making processes in environmental security enables more effective and sustainable responses to the challenges we face, stressed participants at today's High-Level Discussion on Promoting the Role of Women in Addressing Environment and Security Challenges.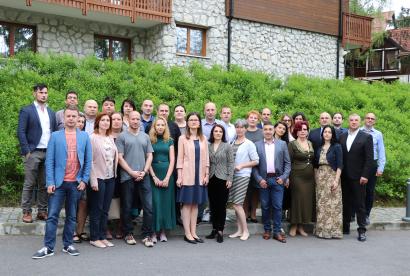 Publishing date:
3 June 2019
A specialized training course on appropriate and effective responses to gender-based violence for Romanian police and prosecutors, organized by the OSCE's Transnational Threats Department/Strategic Police Matters Unit, was held from 27 to 31 May 2019 in Poiana Brasov, Romania...