News and press releases from the OSCE's global activities.
Publishing date:
14 November 2019
Content type:
Daily report
Summary Compared with the previous reporting period, the SMM recorded more ceasefire violations in Donetsk region and fewer in Luhansk region. The SMM was notified by the Ukrainian Armed Forces and by the armed formations in non-government-controlled areas of Donetsk region that the withdrawal of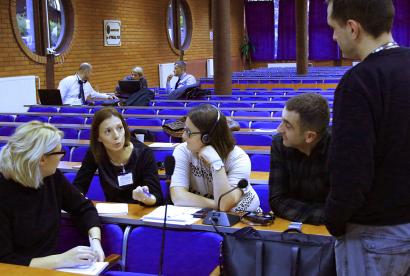 Publishing date:
14 November 2019
The OSCE Mobile Training Team delivered an interactive training course on the identification of foreign terrorist fighters (FTFs) for 25 first- and second-line Serbian border officers as well as officials of the country's Security Information Agency from 12 to 14 November 2019 in Belgrade...
Publishing date:
14 November 2019
Content type:
Press release
LUND, Sweden, 14 November 2019 – OSCE PA Secretary General Roberto Montella has addressed this morning a high-level conference organized by the Office of the OSCE High Commissioner on National Minorities on the occasion of the 20th Anniversary of the Lund Recommendations on the effective participation of national minorities in public life...
Publishing date:
14 November 2019
Content type:
Spot report
On 14 November at 06:45 (Moscow time), the eighty-ninth Russian convoy arrived at the Donetsk Border Crossing Point (BCP). A total of 14 vehicles were checked by Russian Federation border guards and customs officers prior to their crossing into Ukraine. All 14 vehicles had crossed back into the Russian Federation by 13:07 on 14 November...
Publishing date:
14 November 2019
Content type:
Press release
TASHKENT, 14 November 2019- Judges of the highest criminal courts from 23 countries gathered for a two-day OSCE-wide conference on the role of the judiciary in combating trafficking in human beings that concluded today. The participants discussed current human trafficking-related challenges and ways to foster the implementation of OSCE commitments. Strengthening the role of the judiciary as a part of the criminal justice system as a way to effectively combat trafficking in human beings was also discussed.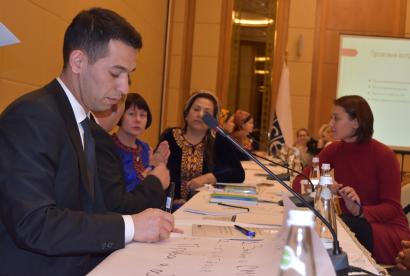 Publishing date:
14 November 2019
Modern approaches to education on journalism were the focus of an OSCE-organized seminar which took place in Ashgabat on 13 and 14 November 2019. The two-day event brought together journalism teachers from four institutions of higher education, journalists from Turkmenistan's television, radio, print and online media outlets as well as representatives of the Ombudsperson's Office, Ministries of Education and other relevant institutions...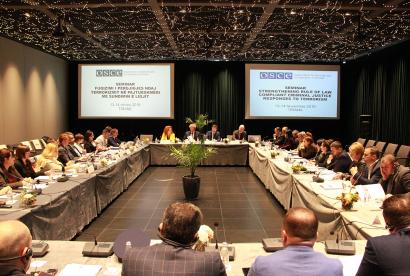 Publishing date:
14 November 2019
Strengthening rule of law-compliant criminal justice responses to terrorism was the aim of a two-day seminar which concluded on 14 November 2019 in Tirana. Over 40 Albanian practitioners from relevant government agencies, the Bar Association and civil society representatives attended the seminar...