News and press releases from the OSCE's global activities.
Publishing date:
11 February 2015
Content type:
Press release
DNIPROPETROVSK, Ukraine, 11 February 2015- OSCE Secretary General Lamberto Zannier and Chief Monitor of the OSCE Special Monitoring Mission (SMM) to Ukraine, Ambassador Ertugrul Apakan, will visit Dnipropetrovsk Ukraine on Wednesday and Thursday to meet government officials and will also visit displaced people affected by the ongoing conflict in Eastern Ukraine...
Publishing date:
8 December 2014
Content type:
Daily report
At 12:00 hrs the SMM monitored an event in Kharkiv where some 150 people of mixed gender and age expressed their appreciation to the soldiers serving in the east and some activists installed a memorial stone for soldiers by the pedestal of Liberty Square. The police monitored the gathering, which ended peacefully...
Publishing date:
5 November 2014
Content type:
Daily report
The provisions of the Minsk Protocol and Memorandum as well as the activities of the Joint Centre for Control and Co-ordination remained at the focus of SMM monitoring. In Donetsk and Luhansk the situation remained tense. In Donetsk the SMM heard shelling from the northern outskirts of the city...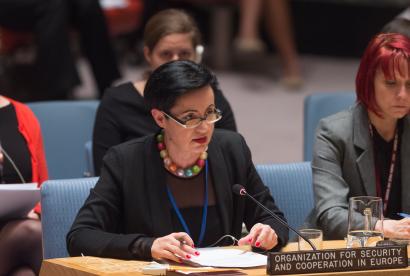 Publishing date:
29 October 2014
The OSCE Senior Adviser on Gender Issues, Ambassador Miroslava Beham, attended the UN Security Council debate on Women, Peace and Security on 28 October where she presented an outline of the OSCE activities on UNSCR 1325 ranging from supporting OSCE participating States in their implementation of National Action Plans, through to gender-enhanced mediation support...
Publishing date:
3 October 2014
Content type:
Press release
GENEVA, 3 October 2014- Didier Burkhalter, Swiss Foreign Minister and Chairperson-in-Office of the OSCE, gave an opening address to the OSCE Parliamentary Assembly, which is meeting in Geneva for its autumn session this weekend. Recalling that the 'Helsinki Final Act' was negotiated in the very same conference building in Geneva four decades ago, he argued that the vision and determination of the CSCE founding fathers should be an inspiration to all to embark on collective efforts to overcome the current crisis of European security...
Publishing date:
29 July 2014
Content type:
Daily report
The SMM visited Rubizhne and Shchastia – towns in the Luhansk region, which had been retaken in recent weeks by the Ukrainian army. The situation in both locations has been slowly normalising...
Publishing date:
12 May 2014
Content type:
Press release