Monitor mržnje, podaci za april 2015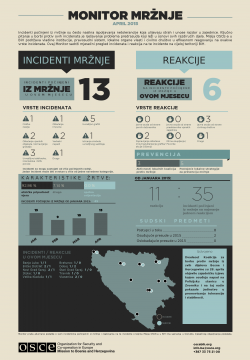 Hate Monitor is a monthly visualization of the Mission's hate crimes monitoring data. It presents the latest data on all known bias-motivated incidents and responses to these incidents by the justice sector, local authorities, and civil society throughout Bosnia and Herzegovina.
Gledišta, mišljenja, zaključci i druge informacije sadržane u ovom dokumentu ne odražavaju nužno stav Organizacije za sigurnost i saradnju u Evropi (OSCE), osim ako OSCE nije izričito naveden kao autor ovog dokumenta.